MOFT Snap-on Stand & Wallet
Customer Reviews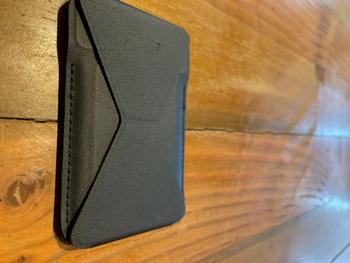 05/07/2021
I recommend this product
Excellent product
The snap on stand and wallet is really convenient. It's pretty slim, can hold the most frequently used items in your wallet, and fastens securely. Been using it with my phone since it arrived.
Jared V.

Philippines
06/16/2021
I recommend this product
Moft Snap on Stand & Wallet best not invasive stand for the Iphone 12 Mini
I'm got the Moft Stand for my iPhone Mini because it is non-invasive like most cases (i.e. I don't have to pry my iphone out of the case). I just snap it when I need it and if I don't need it, I just snap it off. The magnets are way more reliable than the previous adhesive, I keep one of my credit cards on it so I can easily access it.
05/06/2021
I recommend this product
Must have for your iPhone12
What i love about this product is it allowed me to fully utilize the MagSafe feature of the iPhone12 like charging wirelessly, providing storage for my cards and stand. The magnet holds its place and align at the exact space without minding that it would fall out. The product can also be used with your magnetic car mount. So i highly recommend to those with iPhone12.
Ryan P.

Philippines