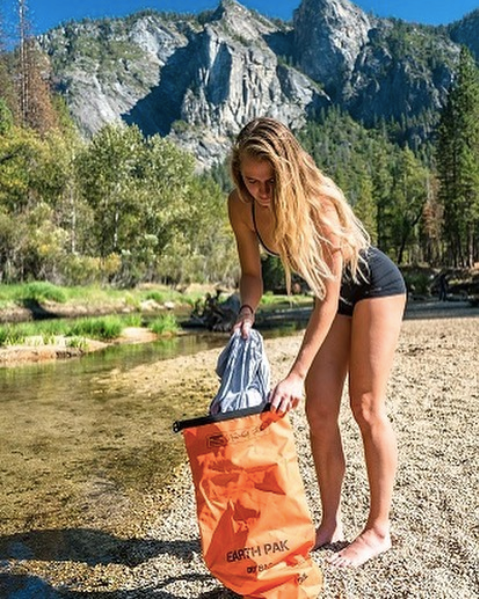 Go the Distance with Earth Pak and Code 10
The sun is up, the summer breeze is blowing, and the smell of adventure hangs thick in the air. In celebration of forthcoming journeys, Urban Traveller & Co. (UTC) introduces Earth Pak and Code 10 -- two brands that will make for a great companion to those who are ready to step out of their rooms and break into new territories.
Earth Pak: Exploring the Great Outdoors
Beaching, trekking, walking down off-the-beaten-paths… whatever activity you might have in your itinerary, EarthPak has you covered. This brand rooted in the US was inspired by the creators' own (mis)adventures around Southeast Asia. With a firm resolve to produce gear that won't let backpackers down, the Earth Pak team worked on travel essentials that are extremely durable, promote ease of use, and nurture the connection between the user and the great outdoors.
An Earth Pak bag is waterproof, with a roll top and buckle closure that make it ideal for water sports. Equipped with a thick 500D PVC material, Earth Pak bags also protect screens, glass, and other fragile gear from abrasions. They come with padded shoulder straps for easy carriage, and a sternum strap for added stability during use. It can even substitute as a camping pillow when trips extend into the late hours of the night.
Those who will purchase Earth Pak from UTC are entitled to a free phone case. Like an Earth Pak bag, the phone case is waterproof, has a simple snap and lock access for security, and has dual-sided clear windows with touchscreen that allows one to use the phone even while its inside the case.
Code 10: Balancing Work and Play
True professionals understand that there are times when business collides with vacation. Code 10 is a recommended ally for hard workers who are used to juggling work and play.
The Code 10 backpack comes from a versatile line of everyday carry that suits the users' particular need at any given time. It is certified waterproof and theftproof, making it suitable for trips under any weather or locale. It comes with laptop sleeves and smart pockets designed to guard devices and information that matter to voyaging executives. Code 10 bags are padded to give comfort to stored valuables, ensuring that they are in tiptop shape no matter the distance or activity that urban travelers have to undergo.
Until April 30, those who will order any Code 10 product will receive a free RFID wallet. This accessory is a good complement to the stylish bag from the same line of trusty travel gear.
Have you figured out a plan yet? If any or both of these brands speak to you, shop today at Urban Traveller & Co. Get them online at www.urbantravellerco.com, or visit UTC at Greenbelt 5, Alter Ego in Shangri-La Plaza, and Vertis North. For more #everydaycarry ideas, follow @UrbanTravellerCo on Facebook and Instagram.