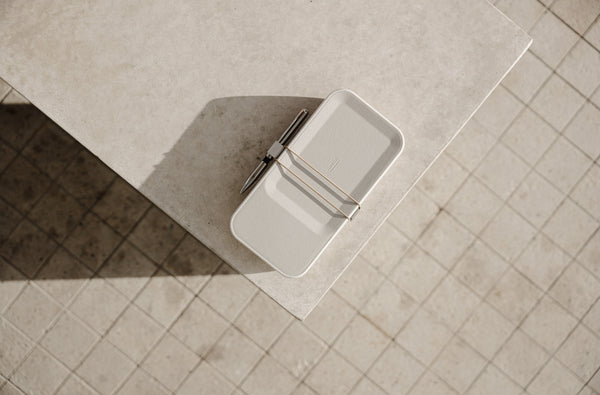 Why You Should Organise Your Desk According To Science
Urban Traveller & Co. celebrates the new collaboration between Orbitkey and KonMari by Marie Kondo with the new KonMari Orbitkey Nest.
"I have a system" just won't cut it anymore.
We can't talk about the importance of organisation without mentioning Marie Kondo. The KonMari Method of organising by taking your personal effects, assessing their current value by evaluating whether they still "spark joy," and on that basis, deciding whether these effects are to be kept or to be thrown away, played a crucial part in the resurgence of minimalism today; whether as a lifestyle, a fashion choice, or design principle. Marie Kondo has rephrased and recontextualised the core philosophy of minimalism in this one key phrase: "Does it still spark joy?" 
Forming the minimalist habit by asking yourself whether something might continue to spark joy: Do I use it? Do I need it? Do I love it? If undecided, you set it aside for later, effectively blanketing yourself from the daunting possibility of using pure impulse as a basis for throwing out more than you actually should. The ultimate goal is to keep things that have both meaning and purpose.
This is also easily applicable to your office space, your work desk. If however you might still be unconvinced by the KonMari Method, here are two reasons why you should organise your desk, as backed by science.
A disorganised desk damages your productivity as much as it affects your colleagues, as revealed by this Workplace Survey by Brother

. 41% of the surveyed office workers believe that a tidy workspace is crucial to getting work done. 2 out of 5 workers admitted that a messy desk affects their performance, and 40% said that they thought a messy desk meant that their workmate was disorganised, and, when it came to their perception of junior colleagues, the stat shot up to 75%. Tidying also increases your chances of promotion; 1 in 10 bosses shared that a messy desk would stop them from promoting an employee.
Personalising our workspaces, especially in an open office, helps us better cope with distractions and stress.

Apart from giving us more control, it allows us to establish a positive relationship between our identity and workplace. Having our personal items on desks motivates us to work harder, as "it lends a sense of identity to a workplace, in which we could otherwise feel like cogs in a machine," says

Craig Knight

, a psychologist who uses science to help companies improve business performance.
The KonMari Method is the perfect first step to building the habit and incorporating it into your workspace, and getting started is easier than ever with the new Konmari Orbitkey Nest, coming soon to Urban Traveller & Co..
The KonMari Orbitkey Nest comes wrapped in a beautiful sashiko-patterned indigo and cream furoshiki cloth, and features stone, black, and grey colourways that work with any aesthetic or design principle. The KonMari Orbitkey Nest is ready to help your desk spark joy into your work day when you pre-order it here.