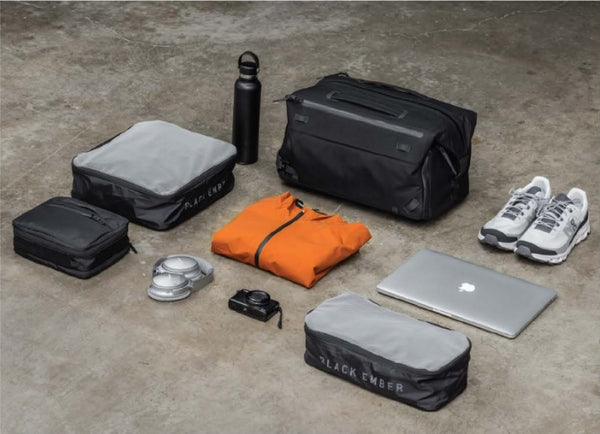 Black Ember is built for the urban dwellers.
The backpack that's locked, loaded, and ready to go.
One look at a Black Ember backpack tells you what the brand is all about: sleek, minimalist, functional, and tech-heavy for the urban dwellers.
It's a contemporary bag; one befitting the profile of a person who not only cares about safeguarding tech and equipment, amongst other daily essentials, but also about giving themselves a bit of an edge. Matte black waterproof fabrics fitted with polished, sophisticated hardware and zippers, strategically placed straps for easy carry; you'd think it was a bag pulled directly from Ghost in the Shell or Orphan Black.
And it makes sense—with meticulous attention to both functionality and aesthetics, Black Ember packs are not only built to endure but also ensure your comfort throughout the day. The brand's commitment to innovative storage and access solutions keeps your essentials organised and shielded.
Black Ember backpacks are not just durable; they are highly functional and weatherproof, designed to safeguard your essential gear. The Black Ember team meticulously selects materials for their performance attributes and visual appeal; every aspect of our backpacks is crafted with an unwavering focus on both functionality and aesthetics: 
They are the world's first brand to collaborate with CORDURA®  Advanced Fabrics on the launch of its new CORDURA® re/cor™ RN66 collection. It is the first 100% recycled nylon 6,6 textile from CORDURA®, a fabric which produces 83% fewer GHG emissions, consumes 82% less energy and uses 57% less water when synthesised. 
Black Ember even produces its own cast aluminium hardware (which they're very proud of!) and collaborates with Fidlock, the innovative German manufacturer renowned for magnetic and mechanical locking hardware.
The Black Ember design philosophy draws from the team's extensive experience in outdoor performance design, tailored for daily use in urban settings. The brand's 3D shoulder straps, contoured for ergonomic support, ensure comfortable load-bearing. Additionally, Black Ember packs feature airflow back-panels that mitigate heat and perspiration build-up on your back.
The Black Ember team is at the intersection of urban lifestyle and technical backpack design. Co-founder Chris Gadway, a former Global Creative Director for Nike and The North Face, brings a wealth of design vision and technical expertise to the brand's efforts.
Urban Traveller & Co. is proud to offer Black Ember's internationally bestselling DEX, CITADEL, and FORGE, as well as new drops from their Fall/Winter 2023 collection like the  WPT - Tote. All Black Ember packs are durable, highly functional and highly water-resistant, and are backed by a lifetime warranty. Taking good care of your pack can make it literally last a lifetime. Black Ember is available at all Urban Traveller & Co. stores and online at www.urbantravellerco.com.