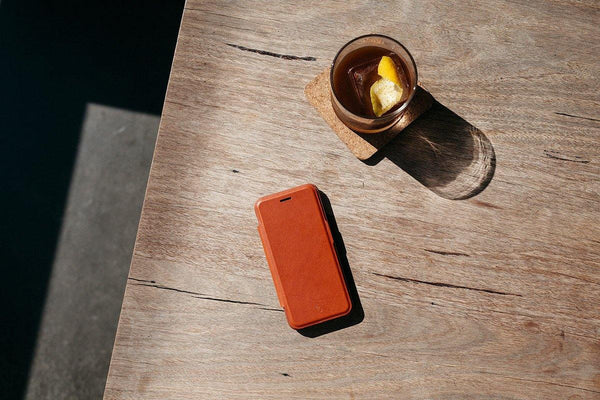 Simplify Your Phone and Wallet - Introducing the new Bellroy Phone Wallet
Phones are now the centerpiece of our pockets - like our cash and cards, they travel with us everywhere. 
Here at Urban Traveller & Co. we've supported the goal of Bellroy in helping people carry better and we're proud to introduce the newest addition to the family:
Bellroy Phone Wallet from Bellroy on Vimeo.
YOUR PHONE AND WALLET IN ONE
You love all-in-one phone wallets, but struggle to find one that's slim. With storage that defies its minimalist design, the Phone Wallet organizes your iPhone and up to five cards in one place. The cover is designed to stay closed as you chat, whilst the soft microfiber lining adds extra protection. Fit your life in your pocket.



 Capacity Breakdown:
Fits up to 5 cards (or 4 cards + cash)
Slot for SIM card & pin
IPhone6/6S
IPhone6 Plus or 6S Plus
The Bellroy Phone Wallet is designed for Apple IPhone users for both the 6/6S and 6Plus/6SPlus. It has 2 quick easy access card slots in the cover and cards and/or cash slots at the back of the phone. 
Cash needs to be trip-folded though for it to slide in. That's perfectly fine given the fact the main purpose of the stored cash will be for emergency use only. It is a great life saver and insurance policy to make sure you never spend all of your cash and will always have a fall back.
Surprise Feature
It never fails to happen especially to Filipinos because of the traffic congestion in Manila. Sometimes you find yourself commuting or waiting in a cafe and you find yourself watching on Youtube simply to pass the time. Its uncomfortable constantly looking down on your phone straining your neck in the process.
For those times flip the cover over, give your phone a firm press down and voilà, you have a stand and watch away. Urban Traveller & Co. and Bellroy making life simpler.
The first batch of Bellroy Phone Wallet is arriving on May 20 2016.
Pre-Order them now as Urban Traveller & Co. will only have limited stocks per color available.