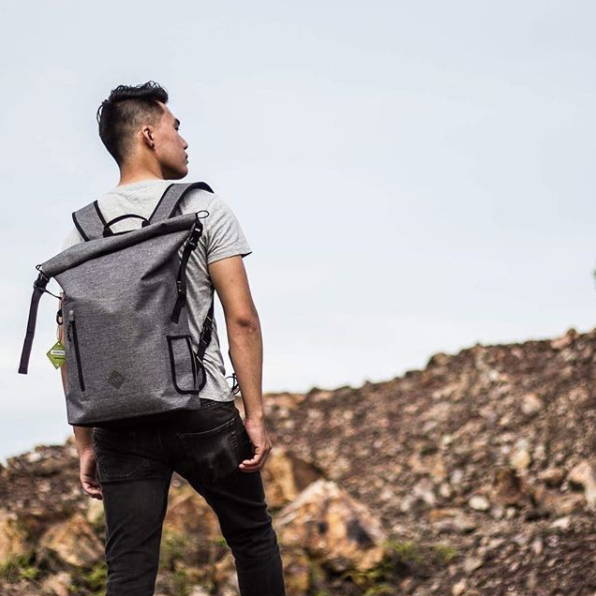 Earth, Sea, and Sky: Gearing Up for Your Next Destination
With summer fast approaching, you are inching closer to that picture-perfect getaway courtesy of your leave credits. Before you break free from the shackles that bind you to your desk, take a moment to ponder about what to bring to your next destination. This might just save your dream vacation from becoming a total nightmare. 
A Tour of the Land
There's something about walking down cobbled roads and marveling at old-age architecture. It takes you back to an era that may have been long gone but always celebrated. If you love to blog about these moments rain or shine, take a
waterproof and theftproof bag
that can guard your laptop and other important belongings from the elements and thieves that may be lurking in shady street corners.  
Travel must-have: Code 10
Code 10
backpacks are made from 100% waterproof TPU-coated fabric with high-frequency welded seams. Its roll-down design makes it difficult for pickpockets to access the zip. The unique locking system secures the bag's main compartment, locking it to almost any fixed object. The backpack comes with a lightweight tech sleeve for computers and a couple of smart pockets for your valuables.  
Into the Blue 
Casting yourself away from civilization and into a tropical island? Make sure that the only thing that'll get wet is your body. Bring a
waterproof dry bag
that can protect your cell phone, camera, clothing, toiletries, shoes, and other essentials as you plunge into a new adventure in the open seas.  
Travel must-have: Earth Pak
Earth Pak
uses lightweight and rugged 500D PVC material that is resistant to punctures and 100% waterproof. Its padded shoulder straps allow convenient and easy carrying. It also has roll top and buckle closure that enables air-tight protection against water and other kinds of liquids.  
Above the Clouds
If reaching the summit is a pinnacle of your life's ambitions, then go ahead and reach for the stars. As you prepare for the hike of a lifetime, remember that the trail may not be forgiving. Get a
slash-resistant bag
that can withstand precarious weather and harsh territories, while keeping the stuff that matter in one piece.
Travel must-have: Loctote
Loctote
is crafted from slash, tear, and abrasion-resistant fabrics. Its textile is of the toughest caliber, achieving the highest ANSI/ISEA 10S cut level A9. It is adorned with slash-resistant ropes and an ultra tough lock strap that is reinforced with patented steel and cannot be broken without extreme force or heavy tools. It is water-resistant, an RFID shield, and even glows in the dark that is perfect for nighttime hikes.
Don't Forget the Little Things
A real globetrotter knows that organization is key to a hassle-free journey. 
Passports, tickets, and bills are your gateway to and lifeblood in a foreign country. Make room for each one in a travel wallet.
Bellroy
has premium, environmentally-certified leather wallets that offer RFID protection, has quick access card slots, and fits all types of passports (except German and Irish). It even includes a micro travel pen with refills for jots.  
Keep your cards in place with RFID/NFC-protected card wallets.
Secrid
manufactures wallets that can prevent identity thieves from reading, activating, and cloning your cards from a distance. Their wallets also have an aluminum core that prevents cards from bending and breaking.  
Last but not least, do not drop those keys if you want to enter the house after a long trip. Secure them with a key chain.
Orbitkey
offers an exquisite solution made with leather. Their key chains can fit 2 to 7 keys, is durable and lightweight, stops key scratches, and eliminates key jingles.  
Have you figured out a plan yet? If any or all of these brands speak to you, shop today at
Urban Traveller & Co.
Get them online at
www.urbantravellerco.com
, or visit UTC at Greenbelt 5, Alter Ego in Shangri-La Plaza, and Vertis North. For more #everydaycarry ideas, follow @UrbanTravellerCo on Facebook and Instagram.