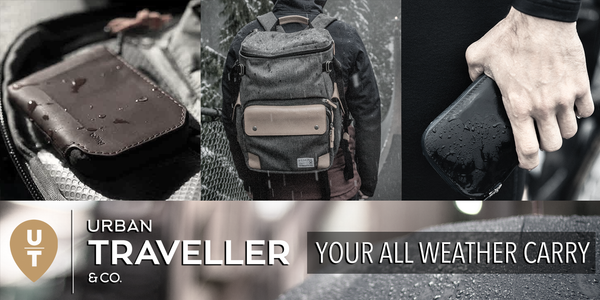 Reign Over Rain with #RainReady, All-Weather Carry from UTC
Many people love walking on sunshine, but not everyone is keen on doing the same thing in the rain. Some find the idea romantic… until they get drenched from head to toe, that is. Wish for the rain to go away, but when it doesn't, take comfort in the fact that Urban Traveller & Co. can help you with #rainready carry items that can safeguard your prized possessions from any weather.
Got a problem? Solve it with a Qwstion bag. 
Taking a rain check on an important appointment is simply unacceptable — even when there's a storm raging outside. Although one's burning passion for work will not be easily snuffed by rain, office essentials such as laptops, planners, and mobile phones are not waterproof. 
Keep your everyday carry items dry and secure with a Qwstion Bag. Made with water-repellent fabric, professionals with a mission would do well with a Qwstion Office or Tote Bag. Use it as a shoulder bag or backpack, it offers great versatility while keeping your laptop and documents snug, safe and dry.
Say no to ruined cards and soggy bills with Bellroy and Secrid.
A drop of water will barely leave a mark on your cards and money, but if they get rained on hard, cards may become unreadable and your bills more vulnerable to tearing. Good thing you can keep them both safe inside Bellroy and Secrid wallets. Designed to fend off water splashes thanks to an additional, water resistant coating on their premium cowhide leather.
No rust, just glory with OrbitKey.
It's necessary to have all your keys stored in one place — more so when it's raining. Imagine having to wait outside the door while you sort out your keys. And what about how rain water which can corrode the metal? Take no chances and organize your keys in style with OrbitKey. Now available in canvas and with new colors for their leather and active collections.
Don't let weather rain on your parade. Be #rainready with Qwstion, Bellroy, Secrid, and OrbitKey available online at www.urbantravellerco.com or at the UTC stores in Greenbelt 5 and Alter Ego, Shangri-La Plaza Mall.
Check out www.urbantravellerco.com or follow @urbantravellerco on Instagram and Facebook for more hip and classy finds. (30)