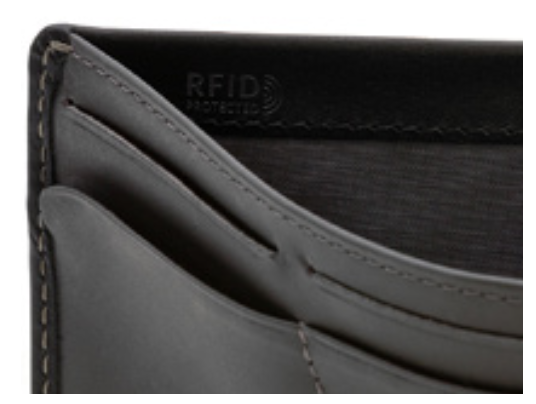 RFID Protection & Peace of Mind
What is RFID?
RFID stands for Radio-Frequency Identi cation. The chip-based technology is often used in credit cards or passports to store personal information, which can be transmitted to an RFID scanner. 
The Threat
What is RFID theft?
RFID theft (often referred to as skimming) is when someone uses a scanner to read and duplicate the personal information from someone's cards or passport without their knowledge. While extremely rare, attacks have been demonstrated by security researchers and illegal use of these attacks could result in things like credit card fraud, or identity theft. 

RFID Vulnerable Items
Credit Cards
Passports
Debit Cards
As a growing number of customers ask for RFID protection in their carry goods, we've added new options in our product catalog. Below are our best selling RFID ready products meant for your protection in your daily travel.
Urban Traveller & Co. brings you three brands in different formats that protects you from RFID theft.
Bellroy
Bellroy just recently added RFID protection to its two main lines - Note Sleeve and the Travel Wallet.
The Note Sleeve is the brand's best selling wallet. It can carry up to 12 cards. There are 3 quick access slots for your most used cards (credit, atm, driver's license) and there is a mega slot that can house all the other 9 cards. The mega slot has an easy access pull tab that makes it convenient for you to take the right card. This slot is usually reserved for all those membership and loyalty cards.
RFID protection is much more prevalent when you travel. The Travel Wallet of Bellroy ensures that you don't need to swap out your wallet when you arrive at your destination. The wallet is jam packed with features as it can already carry your passport, boarding pass, sim card and comes with a micro pen as well!
Secrid
The arrival of high-tech cards caused a rapid replacement of the traditional cash as means of payment. This new era of technology calls for an innovative type of wallet. One that protects both your privacy and your money. The Secrid wallet does exactly that both in terms of security and style.
Secrid wallets are small on the outside but surprisingly big on the inside. Each Secrid wallet incorporates the ultra-thin aluminium Cardprotector. 
Natsu
(Natsu is named after a season in Japan)
The Natsu is a simple card sleeve beloved by Minimalist. 
 It can house 6-8 cards, has a coin slot and a cash compartment. All in a very minimal form. Best of all it already has RFID blocking capabilities to secure your credit cards. Material is superb with Saffiano Leather in Gold color and the stitching is very well done.
17 Colors are also available, ensuring that it can definitely match your desired outfit.