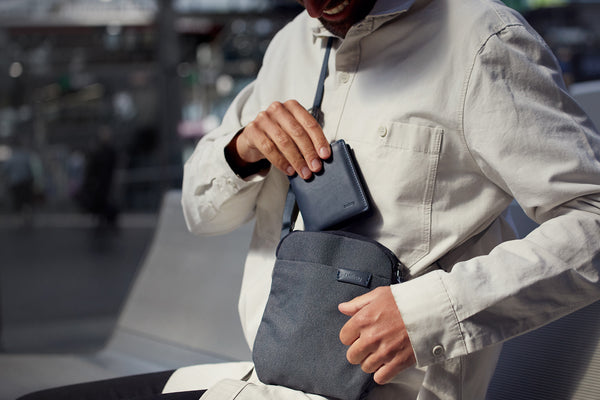 Bellroy V-Block Anti-Bacterial Fabric: Stops Your #EDC From Giving Germs A Lift
In today's condition, everybody is in search of ways on how to reduce their susceptibility to germs, bacteria, and viruses. While washing our hands and using disinfectants can help taper our exposure, countless brands invent more ways to diminish our risk from these deadly threats.
To reassure their users, Australian brand Bellroy conceived an impressive groundbreaking technology that keeps our every day carry items from being a microbe carrier. At Urban Traveller & Co., we will get you acquainted with this incredible innovation that promotes added layer of protection. 
Dubbed as HeiQ V-Block, this Swiss-engineered innovation protects our gadgets from unseen threats. Using silver and vesicle technologies, the V-Block stops the survival and growth of microorganisms on our gadgets' surfaces. 
The silver technology utilized attracts various kinds of microbes. It will then destroy the protective covering of these microscopic threats and eventually attack its cores. This strategy will hinder the survival and reproduction of these pathogens; hence, germs will no longer ride on our precious gadgets.
Bellroy strategically placed this anti-bacterial technology on areas that are frequently touched. Spots like the external surface of wallets and pouches have been applied with the HeiQ V-Block. However, some sites like the handles and the interior surfaces were not exposed to the V-Block. 
If you are concerned about its toxicity on the environment and irritation on your skin, worry no more. The HeiQ V-Block is entirely harmless as it uses certified safe and sustainable ingredients.
And to make this technology more exciting, Bellroy applied it to several of its high-touch products. You can take your pick among several accessories, such as coin purses, travel wallets, laptop sleeves, phone cases, and bag slings. 
Despite its antimicrobial properties, the HeiQ V-Block does not entirely protect you from microbes. It is still highly advised to religiously practice the basic protective measures, such as alcohol, masks, and frequent handwashing. This fundamental respiratory hygiene not only will protect you but also the people that surround you.