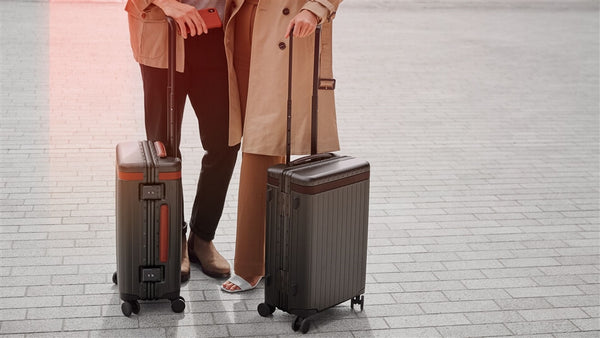 Carl Friedrik is ready for any travel itinerary
The luggage that can keep up with the biggest travel trends of 2023.
2022 was the unofficial year of the soul-search; the year where trips were mostly solo  endeavors for the sake of wellness breaks of any kind. And despite it not having been as  available to us for an extended period, the landscape of travel has changed in the past three  years: For the first half of 2023 we've seen a rise in group bookings, a greater need for  sustainable travel, and a desire for more intimate human connections and local experiences. 
As we enter the second half of Revenge Year—we've written at length about the role that  travel plays into the psychology of reclaiming what the past pandemic took from us—you  could either be tuckered out from your previous trip, or amping yourself up for the next. 
But first, let's take a look at some of the prevailing travel trends of 2023, and you may perhaps  be inspired to add these to the itinerary of your next trip.
Here are 5 trends that travellers have been jumping on planes for, and why you might want to  do the same. 
Long multi-country trips like European Magic and European Discovery, wherein tourists visit  8-9 different countries in less than two weeks, have risen in popularity. It seems young people are eager to get back on the road and explore as much as possible all in one go. Contiki CEO  Adam Armstrong says, "during the pandemic people were more cautious about crossing borders so they tended to stay within one (e.g. Greek Island Hopping). Now that it's easy to  cross borders, the multi-country trip is rock-and-rolling again." It's with this mindset that trips  are now booked for much longer in 2023; Pre-pandemic, the average trip would last around  ten days, and now it's hitting two weeks. Armstrong also notes that long trips (e.g. Ultimate  European) had been on the decline pre-pandemic, but this year, people are trading up to  spend longer away, maybe also justifying the higher-than-normal airfares by having a longer  trip.
Gamma Destinations are another trend reported by The Luxury Travel and Yachting Trends report (2023-2027) by Pelorus. Travellers are now seeking "emerging destinations that offer an  array of entirely new experiences. For the worldly wealthy who have "seen it all before", there  will be a growing appetite to see previously unheard of or overlooked places." People are  looking for Gamma Destinations as trips and getaways that take them away from the crowds.  These could be undiscovered destinations such as Lombok or Nusa Lembongan, the semi rural countryside of a popular destination like Assagao in Goa or Natai near Phuket, or a place  with a spiritual calling like Bali or Galle in Sri Lanka. Globetrotters are now looking to find  meaning in travel. 
The art-hotel mash-up trend has been around for a while, but the trend is gaining momentum this year, catering to a generation of travelers looking to bed down in spaces  where creativity and connection are nurtured. In Marrakech, artist Lrnce opened Rosemary, a colorful seven-bedroom riad decked out in colorful hand-painted tiles, fabrics and a rooftop  that will host community events for like-minded guests. In a similar vein, American drag queen  and folk musician Trixie Mattel opened the doors of the Trixie Motel, a motel in Palm Springs decked out in her signature Country/Americana bathed in Barbie pink aesthetic, and both fans  and enthusiasts alike have flocked to the hotel to enjoy signature cocktails, lounge in a curated  pool and decade-themed bedrooms, occasionally party with music DJ-ed by motel owner Trixie herself, and meet fellow guests looking to explore the Palm Springs community together. In the era of social media, many establishments are looking to establish a "picture perfect" in  order to attract more guests who are looking to be present both online and offline. Art hotels  with their respective signature curations offer this experience in spades.
Pop-culture or music festival trips are another major trend. According to a survey  conducted by Expedia, ⅔ of global travelers have considered booking a trip to a destination  inspired by a TV show or movie they've watched. The travel industry has already capitalized on  the popularity of shows like Bridgerton and Emily in Paris by creating personalized trips or  itineraries, to great fanfare. And with streaming services continuing to rise, so will this trend in  2023. Additionally, following two years of pandemic-induced cancellations, Mintel predicts UK  sales of music festivals and concerts will surpass its pre-COVID level in 2023. The post pandemic musical festival scenes and cultures are bouncing back, and bouncing back hard. The largest of these festivals, the likes of Coachella, Lollapalooza, Bonnaroo or Governors Ball, cater to travelers by curating stages with different genres of artists and allowing listeners to  experience more music than they thought they'd ever really like. Joe Daher for The Dartmouth writes, "More than any other type of performance, festivals are cultural zeitgeists of their  moment, with their influence stretching far beyond the limited number of actual attendees. Woodstock in 1969 attracted half a million people to a small farm in upstate New York just once, but its legacy touched a generation. Today's music festivals are spread through social  media and the internet. Coachella has a daily attendance of about 125,000 people, but  millions of spectators tune in to the livestream or broadcast specific sets." Enough reason to  book that flight and pack those bags. 
And finally, Filipino travelers in particular are seeking affordable travel in order to satiate  their hunger for new experiences and cultural immersion. The Philippine Travel Agencies  Association's (PTAA)'s recent findings indicate Filipino travelers are primarily drawn to  Southeast Asian destinations like Japan, Singapore, Vietnam, Malaysia, Thailand, Cambodia,  and South Korea, with travel to visa-free countries such as Israel and Taiwan being particularly popular. Tour packaging services continue to dominate the Philippine market, with  inclinations toward FIT (free independent travel) tours growing. This is driven by the desire for  enhanced privacy and the freedom to personalize travel itineraries according to individual  preferences and schedules. Travel services are now also going digital, with platforms like Klook serving over 3.8 million active users and more than 300 partner merchants with 600 offerings  across 21 cities in the Philippines. A Travel Pulse study showed that Klook users in the  Philippines lean toward booking travel to neighboring countries like Singapore, Japan, and  Hong Kong due to proximity and visa-free ease. Michelle Ho, General Manager for Klook Philippines, said there is an increased interest to visit Hong Kong after it lifted restrictions, with Klook recording a month-on-month growth of 230% in bookings among Filipinos from  December 2022 to January 2023. 
Photo from Carl Friedrik website, HBO's Succession
Now that we've got that covered, another thing your next trip should include is to take your  travel luggage to the next level. Carl Friedrik offers that upgrade in spades with the new Check  In Luggage, Carry On Luggage, and Carry On Luggage Pro.  
Launched in 2013 by two brothers, the London-based brand has grown from humble  beginnings into a purveyor of premium leather & travel accessories. By highlighting intelligent, innovative, and receptive design with quality craftsmanship that leverages tradition and the  finest materials, Carl Friedrik guarantees you confidence through understated visuals and the  highest quality sustainable luxury—as seen very clearly in these premium travel luggage.  
Each of these are made with lightweight polycarbonate, an aluminium lock frame, and fine  leather detailing. The Check In and Carry On Luggage feature interiors where each side is an  open compartment equipped with compression straps, as well as a removable compression  pad with a pocket, to be used in tandem with the compression straps. The Carry On PRO  features a hard-shell pocket with a laptop compartment, two pen slots and a smaller pocket.  Both Carry On Luggage variants comply with most European, US and rest of world airline  cabin size restrictions. The Carl Friedrik Check In Luggage, Carry On Luggage, and Carry On  Luggage Pro are the best travel companions ready for any itinerary.  
The best trips begin with the best, most convenient and intuitive tools, built to make life away from home easier and more hassle free so you can focus on making the most out of whatever adventure you embark on. As you set out to book your next flight and set your itinerary, be  sure to find luggage options like Carl Friedrik and other travel essentials that work best for you at Urban Traveller & Co.