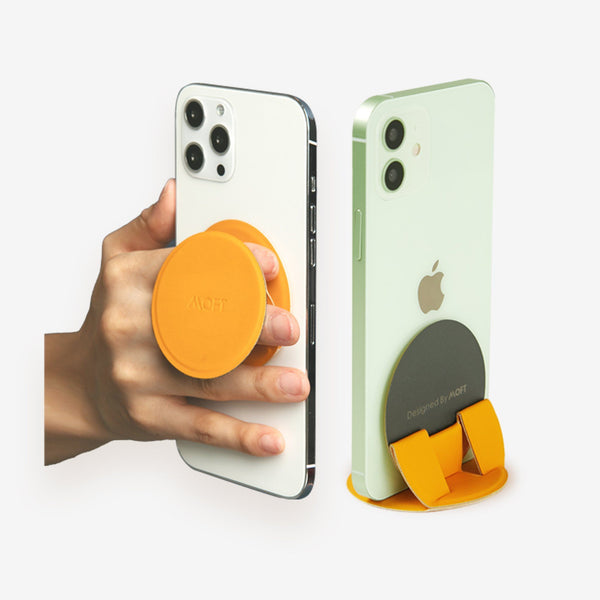 Carry Your Phone With Ease with the MOFT Snap Phone Stand & Grip
Over the years, the use of smartphones went up on-demand, and with technological evolution, its size and functional features also evolved. The larger the screen size, the better the experience. But the portability of the device may bring a bit of hassle when using your smartphones. MOFT offers the MOFT Snap Phone Stand & Grip to ease you from the challenges of holding your smartphones.
The MOFT Snap Phone Stand & Grip is available in four different colors: Hello Yellow, Jet Black, Wanderlust Blue, and Sunset Orange. You can check out the product and pick your choice here at Urban Traveller & Co.
Carrying the brand's design philosophy, the MOFT Snap Phone Stand & Grip is "unseen, unfelt, and unnoticed." You can just easily snap this disc-like phone stand at the back of your device, flip it out to use it as a stand or as a grip, and rotate it 360⁰ accordingly to your preferred angle. You can even put your phone to stand upright. 
Made with soft vegan leather, it feels soft and comfortable to hold and offers a subtle grip on your phone. The MOFT Snap Phone Stand & Grip is also designed to be compatible with any phone model. It is MagSafe compatible with your iPhone 12. But as not all phone models are created precisely the same as each other, it comes with the magnet-like Snap Phone Sticker if you are using other phone models. Clean and sophisticated, the sticker does not leave any residue on your device and can be reused.
In addition to this innovative design, the MOFT Snap Phone Stand & Grip offers you the chance to have a hands-free experience. You can purchase the product with a Magnetic Wall Sticker and go hands-free whenever you want to. Just snap off the phone stand yet leave the Snap Sticker on at the back of the device, and it's ready to pair up with the Wall Sticker.