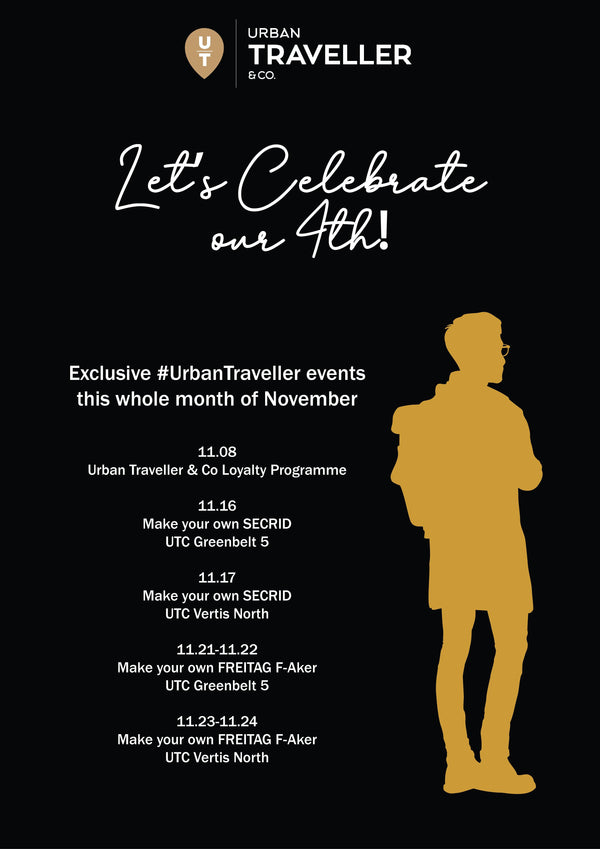 Celebrate Four Years of #youreverydaycarry at Urban Traveller & Co.
We're turning four!
Mark your calendars because November will be a month-long celebration at which will kick off with the launch of UTC's highly anticipated Loyalty Rewards Programme.
Secrid, one of our bestselling brands that specializes in RFID/NFC-Safe wallets and card protectors will be having their first ever Custom Secrid Event on November 16 and 17 at UTC Greenbelt 5 and Vertis North. Customise your own wallet by choosing from over a hundred never before used leather styles and card protectors. Then add your own creative spin thru our Personalisation Service for a more unique style.
Freitag, the brand that transforms trucks tarps into all-weather, functional, and fashionable bags and accessories will be launching their Limited Edition F729 Extra Large at Greenbelt 5. Get a chance to Make a F-aker Pouch from the very same tarps that is stylish, eco-friendly, sustainable, and upcycled.
Join the fun and celebrate with!