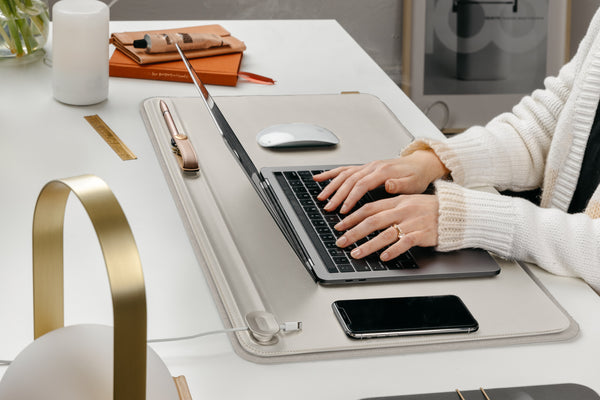 Christmas Gifts To Make Your Home Workstations Safe, Fun, and Comfortable
Whether you're digging the work-from-home setup, or enjoying the harmony of working in several locations or in the office, the Urban Traveller & Co. got some major recommendations to make your working at home more fun, productive, and less distracting. 
We've collated some of our top commendations for this Christmas that we personally believe are the must-haves and worth investing in to make work-life balance and enjoyable. 
We'll start off with the ultra handy MOFT or Mobile Office for Travelers. Boasting its sleek and long-lasting design, the laptop stand MOFT was conceived to work as an invisible accessory to your computers. It can be quickly set up on your laptops, no need to waste time packing and unpacking this appendage. With its two elevation adjustments, you can easily find the height and sitting posture ideal for you.
To relieve your wrist and hand pains from all-day computer tasks, suss out on the premium comfort of DeltaHub Carpio 2.0. Partnering with medical experts, DeltaHub develops this genius ergonomic wrist rest to deliver comfort and ease of gliding as you move your computer mouses. Offered in multiple hues, this accessory not only improves your comfort and hand stability, but it can seamlessly match up to your favorite gadgets. 
For a clutter-free desk, organize your work tools with the clever OrbitKey Desk Mat. This genius solution helps maximize your space and organize your stuff and is made with Vegan leather and recycled PET felt. You can quickly hide and pack loose papers and notes away with its document hideaway while its magnetic cable can keep your wires in place. Complement your set up with the OrbitKey Nest, the handy organizer that you can take anywhere you go.
With the threat of Covid-19, we can keep ourselves safe from the virus in and out of our homes by using the portable KeySmart CleanLight Air. This handy air purifier can help remove 99% of particles present in the air, like smoke, dust, pet dander, odor, and air pollution. 99% of the germs and bacteria are also destroyed through its UV-C LED technology. Charge this using your power bank or through your car charger port and it can quickly purify rooms of up to 160 square feet area.