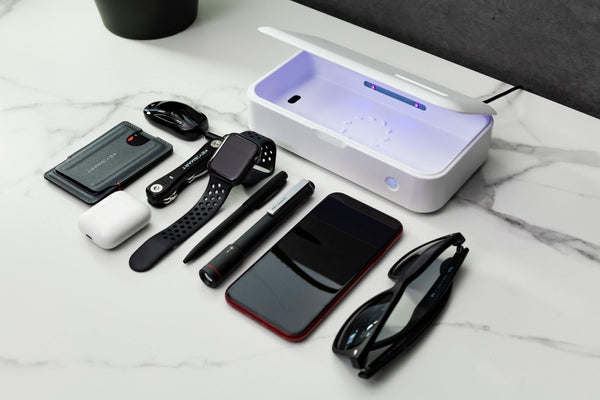 Clean As You Go with the KeySmart CleanTray UV Sterilizer
No matter how many times you wipe off the dust from your smartphone, or how hard you clean and scrub your work desk, it's still possible to miss a few contaminated areas. As a number of people slowly start going to work, the chance of bringing in allergens and pollutants into your home increases. With that being said, it is better to take precautionary measures to keep your things and surroundings germ-free and sanitized.
With the CleanTray UV Sterilizer from KeySmart, you're assured that all your belongings are safely and properly sanitized. The UV light sterilization case is a must-have item, especially for those always on the go as it kills 99.99% of germs and bacteria in just 5 minutes - twice the time it takes for other UV cases, making it more efficient. 
Here are three more things to love about the KeySmart CleanTray UV Sterilizer:
Spacious
Keep your essential clean and sanitized all in one go. It can fit a 7-inch smartphone, plus other important things like keys, a wallet, a pen, and a smart watch. 
Portable
Clean as you go, literally. It weighs less than a pound and easy to carry around - perfect for those who travel a lot.
Relaxing
Enjoy aromatherapy anywhere you go. Not only can it sterilize your belongings, you can also add essential oils to give your things a calming and soothing scent.