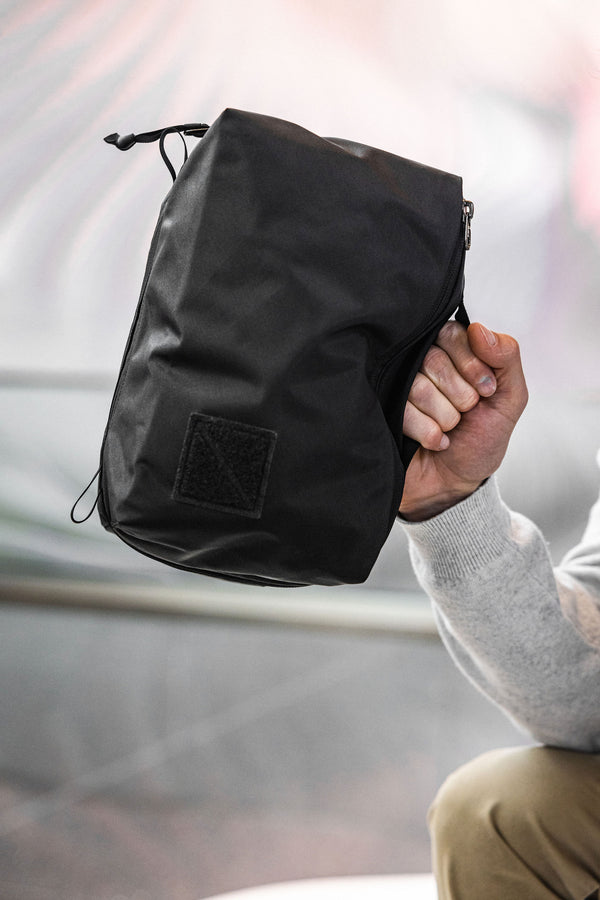 Evergoods Transit Packing Cube 8L
Packing For Your Next Trip Is Easier With Evergoods Transit Packing Cube 8L
Let's be honest with ourselves: packing for trips is stressful.

I mean, sure, it's the precursor to the trip, and there's a degree of excitement in that. But the act of packing in itself is stressful because of the emotional burden. If you forget something, it makes parts of your trip inconvenient. If you choose to replace it, that's additional spending that could have been avoided. If you overpack, that's excess weight to carry, if you pack too little, you stress about stretching your belongings to last. And for international travellers, the concern regarding weight limits on carry-on luggage… Need I go on?

The key is balance. You need just the right amount of clothes to last you comfortably for your trip, but also enough to worry about souvenirs or any additional new things you'll want to bring home. A balance between not too little, not too much; a balance achieved when you optimise space.
In order to maximise space, try practising these packing tips on or in anticipation of your next trip. The beauty of some of these tips is that they can also work—albeit on a smaller scale—in packing your everyday backpack.

1. Make a Packing List:
Before you start stuffing your suitcase, create a comprehensive packing list. Write down all the essentials you'll need for your trip, including clothing, toiletries, electronics, and any specific items required for your destination or activities. Having a clear packing list will help you stay focused and avoid overpacking unnecessary items.
2. Use Versatile Clothing:
When selecting clothing, versatility is key. Opt for basic pieces that can mix and match to create multiple outfits. Neutral colours and simple patterns work best, as they allow you to coordinate various items easily. Bring clothing that can be dressed up or down depending on the occasion, and consider packing lightweight and quick-drying fabrics for added convenience.

3. Roll, Don't Fold:
It's time we settle the age-old debate of rolling vs. folding clothes: rolling your clothes not only saves space but also minimises wrinkles. This method allows you to fit garments into small gaps within your luggage, maximising every inch of space. Most helpful especially for delicate clothing is to use packing cubes. Rolling clothes is champion in packing. Speaking of packing cubes…


4. Use Packing Cubes and/or Compression Bags:
Packing cubes are a game-changing way to stay organised while optimising space. These handy zippered pouches help you separate your clothes into categories, making it easy to find what you need without disrupting your entire bag. Assigning particular categories to specific bags allows you to divide the overall burden of packing into sub-categories, allowing for greater keeping track of all your things. Compression bags are also great for squeezing out excess air and reducing the overall volume of your clothes, saving precious space for souvenirs or other essentials you might pick up during your trip.

5. Wear Your Bulkiest Items While Travelling:
If your trip calls for heavy or bulky pieces such as jackets, boots, or thick sweaters, wear them while travelling instead of packing them. This not only frees up space in your luggage but also keeps you comfortable in case the weather gets chilly during your journey.

6. Pack Multi-Functional Items:
Rather than carrying a separate item for each purpose, choose items that serve multiple functions. Many portable electronic charging options are now multipurpose, such as multicables with different cord options, power strips and extension cords with multiple sockets, and powerbanks that can charge multiple gadgets at once. You end up bringing one powerbank or charger for three different gadgets, rather than wrestling with three different chargers. A good way to reduce on both weight and storage.
7. Downsize Toiletries and Use Travel-Sized Containers:
Toiletries can quickly consume valuable space, so it's crucial to downsize where possible. Invest in travel-sized containers and transfer your favourite products into them. Alternatively, many hotels and stores carry common toiletries, and this strategy saves you from lugging around heavy bottles. Push comes to shove and procrastination becomes your last resort, you can always buy travel-sized toiletries at your destination.

8. Leave Room for Souvenirs:
If you know you're likely to bring back souvenirs, leave some empty space in your suitcase when you depart. This forethought prevents you from scrambling to make space or paying for extra luggage on your return journey. Moreover, packing lighter in the first place can make your travels more comfortable.

9. Utilise Every Nook and Cranny:
Be resourceful with your packing. Fill shoes with socks, roll up belts and tuck them around the edges of your suitcase, and stuff small items into gaps between larger ones. Utilising every nook and cranny of your luggage can make a significant difference in how much you can fit inside.

10. Reevaluate Your Packing List Before Returning:
As your trip comes to an end, take a moment to assess which items you didn't use. This exercise helps you identify what you can leave behind on future travels and avoid carrying unnecessary items.
Mastering the art of efficient packing allows you to focus more on the excitement of the journey and less on managing your luggage, ensuring your trips are hassle-free. And Evergoods Transit Packing Cubes 8L, now available at Urban Traveller & Co., are there to hold your hand for when you pack for your next trip. The Evergoods TPC8 takes the proven butterfly layout to new heights in signature, premium Evergoods fashion. A slim accessory pocket lies on the exterior for stashing passports, laundry bags, or other travel essentials, and the outer shell is made from a slick, tightly woven, and durable 210d Nylon 6,6. Automatic mechanical compression is designed into the TPC8's zipper line to provide extra storage, and it is shaped, sized, and patterned for maximum packing options. Whether on its side, bottom, or open flat, there's a myriad of loading solutions for the TPC8 based on your needs. Usable in any travel bag, the TPC8 is also sized to fit perfectly in any Evergoods backpack or the Evergoods Transit Duffel 35L.

Your next trip is always bound to be your best yet, and with the most convenient and intuitive tools at your disposal, you are ensured of that. Be sure to find other luggage options, packing accessories, other travel essentials at Urban Traveller & Co. Happy travels!