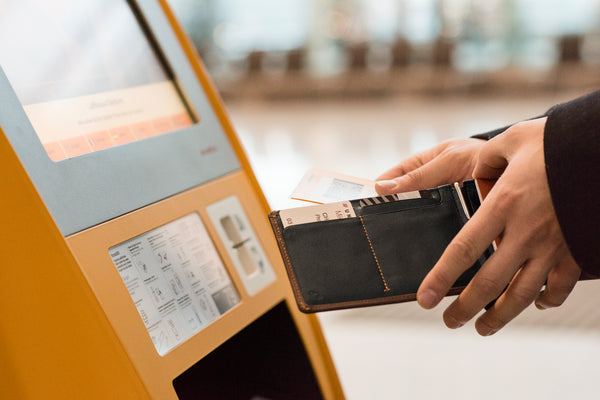 Five Things To Add To Your 2022 Travel Essentials
Almost two years after being locked up inside our homes because of the pandemic, it's inevitable to have that urge to travel and see the world again. With the economy and tourism gradually opening, we know most of us are slowly gearing up for our first legit post-pandemic travel. 
Whether you're thinking of exploring an all-new place or perhaps going back to your favorite tourist spot, the Urban Traveller & Co. team created a listicle of essentials to arm with protection, comfort, and style suitable on your next travel adventure.
A handy solution to people who are always on the move. Dubbed as the World's slimmest suitcase, the Rollink Flex 21 is an ingenious carry-on item that can be folded up to 2 inches thick with a 40 liters storage capacity. Weighing only 2.2kg, this luggage is water-resistant to keep your belongings safe and dry.
Crash Baggage
A unique and cool luggage design, its Venetian designer purposely constructed each Crash Baggage into its "damaged" state, as if it has already been tossed around heaps of times. While some find this totally odd, many consider it a genius hack to spot their precious bags easily. Available in oodles of hues and sizes, it's easier to travel the world in style with the Crash Baggage. 
The Ostrich Pillow Go will put ease around your neck as you endure long-haul or delayed flights. This travel pillow can quickly adapt to your proportion and can be plopped in three positions. It is made with a high-sensitivity memory foam core dressed with a stretchable, removable, and washable fabric layer. 
The Bellroy Travel Wallet RFID has become such a travel staple that truly makes your airport experience so much less of a hassle. This genius accessory can neatly and quickly organize your passport, 4 to 10 cards, bills, and micro pen into a high-quality bifold leather wallet. Moreover, for a more secure travel experience, the Bellroy Travel Wallet RFID can safely guard your identity and card details against unauthorized scanning with its RFID Protection features.
Don't let your guards down YET, as the Covid-19 threat is still very much around. Don the ever-reliable Banale mask that will give you 99% protection from PM 10, dust, pollen, and bacteria. Besides safety, this mask will provide ultimate comfort even when worn all day. What's more, is its machine washable make that will last you up to 30 times! With the Banale mask, you can be safeguarded from pollution and bacteria while also protecting our environment. 
Travel in comfort and style with the funny pack Freitag F40 Jamie. This bum bag is made with recycled truck tarpaulin; thus, you must expect durability and water resistance. It can house your IDs, cards, passports, and bills to make your wandering experience hassle-free and fun!