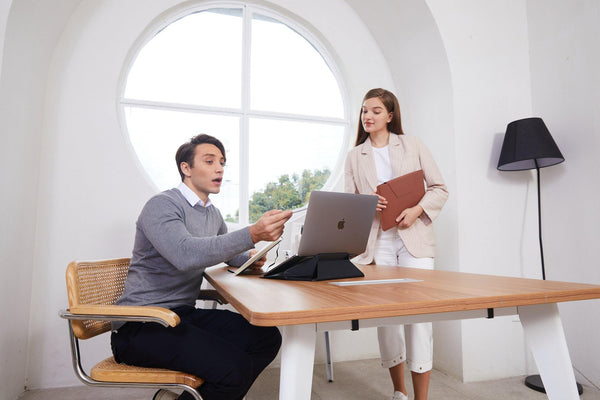 Form + Function: Enjoy the Best of Both Worlds With Moft Carry Sleeve
Make the most out of your work day with the versatility of the Moft Carry Sleeve. Just when you thought that form and function were impossible to combine, greatly structured innovations like this comes your way. With the Moft Carry Sleeve, not only will you enjoy how it looks and feel, you can also benefit from its performance. Here are four features you can enjoy in just one product.
Premium Protection
The Moft Carry Sleeve is designed with a high-grade PU fabric exterior which doesn't show scratches, and a neoprene material design inside that keeps all your work essentials safe and protected everywhere you go.
Efficiently Functional
With more people working remotely and outside their homes, the Moft Carry Sleeve is the best work companion as it also serves the purpose of a laptop stand. The sleeve is designed with two angles ,15° and 25°, and can be switched up depending on your current work set-up.
Handy 
Its slim case and lightweight material makes it easier to bring all your essentials with you. It's the perfect hand-carry bag for those sudden out-of-office meetings or if you just want to nail the professional look while you're in public. 
Stylish
In addition to its outstanding functional features, the Moft Carry Sleeve is also a chic and stylish piece that can complete your look. It comes in four colors: Tan, Beige, Blue, and Black.