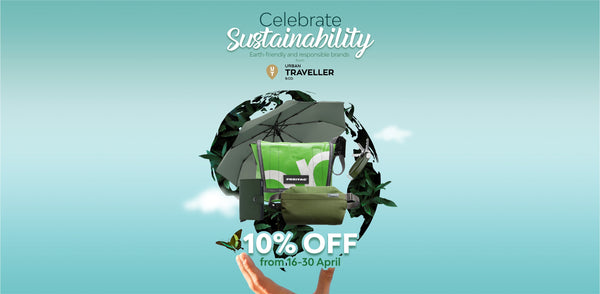 Let's Celebrate 🌏 Every Day!
Urban Traveller & Co celebrates sustainability with eco-friendly brands for your #everydaycarry
When it comes to travel gear and accessories, we often think in terms of style, quality, durability, and affordability. But, wouldn't it be great to know that we can also make an impact on the environment by choosing more sustainable products?
 
Make a difference with your purchases -- without sacrificing style or quality -- with these fresh, practical picks. 
 
Here's to celebrating your passion for adventure and the environment!
Freitag
Freitag helps to reduce waste by upcycling truck tarpaulins and airbags for its products, making them water-repellant and durable.
 
As a brand for the eco-conscious shopper, Freitag further delights with its innovative SWAP program, which stands for "Shopping Without Any Payment." Here, they put a fun spin to sustainability, allowing you to exchange your old bag for a new one hassle-free! 

Secrid
Did you know that thieves can easily steal credit card information just by standing next to you? Get ample protection against unwanted RFID card interactions with Secrid's RFID-blocking wallet. 
 
But beyond simply offering security, Secrid is a mindful brand that responsibly uses leather produced in Europe. It is a B Corp certified company and is recognized to operate without harming people, animals, and the environment. 

Orbitkey
Orbitkey has numerous award-winning and practical products for the everyday - from ID card holders, key organizers, desk mats, and so much more.

On top of its sleek designs, the brand introduced the eco-friendly cactus leather for its key organizers, which is durable, organic, and partially biodegradable. The card holders feature 100% recycled woven polyester while our bestselling desk mat uses 100% PET felt.

Bellroy
Looking for chic but environmentally friendly bags? Check out Bellroy, which boasts designs made from recycled and plant-derived fabrics. 
 
If you're a leather fan, too, you can be assured that the material used has been sourced from responsible producers. 
 
In fact, the brand has earned a gold rating from the Leather Working Group, recognized for its excellent environmental and labor practices.

Our purchases do make a difference! Now, you can indulge in shopping without the guilt by simply switching to environmentally sustainable brands.