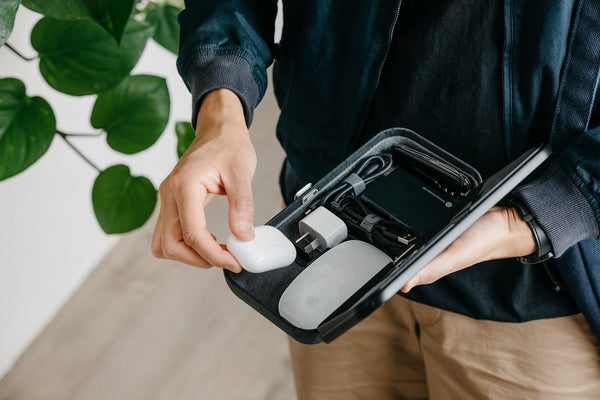 Meet Orbitkey Nest: Your Portable Space Saver
It's always nice to stay organized, but it's one of those things that are easier said than done. Let's face it: It's a hectic life, and not everyone has the luxury of time to clear their desk after a long day at work. Often, when the computer shuts down, our bodies follow suit. That is how you build an empire of clutter, which expands with each passing day.
To those who are on the verge of giving up on seeing a neat desk once again: All hope is not lost. Urban Traveller & Co. is bringing the Orbitkey Nest into the fore – ready to be your very own portable space-saver that can boost your productivity and efficiency through ingenious decluttering and smart organization.
Your EDC's Home Away from Home
The Orbitkey Nest is designed to be a comfortable storage for all of your daily necessities, especially when you're in transit. Pens, cards, and other loose items can fit snugly in the various compartments made just for each item.
The Nest comes with a tray and a foam-padded internal storage that makes it easier to retrieve items as you hustle at your personal work station. With its dual-function hinge mechanism, you can either lift the lid or flip it open to sift through its contents.
Supercharged Superhero
Too much activity draining the life out of your devices? Let the Nest take care of the rest! Place your gadgets on the 10W Wireless Charging Pad embedded in the lid and wait for them to recover as you do your thing. Whether you're working at home or running an errand outdoors, you can count on the Nest to provide you with the energy you need to zip through the day.
The Coolest Chameleon
Every individual has a particular set of needs, and the creators of the Nest took this fact to heart. The result is a nifty tool that can be easily customized to better respond to the particular demands of its owner's lifestyle. The Nest is equipped with movable dividers that enable users to tweak compartments in a way that will accommodate their daily arsenal of EDC.
While it's true that old habits die hard, they are most definitely not immortal. You can combat the clutter as long as you do something about it. Get help that will make you feel right at home -- dive into the Nest.