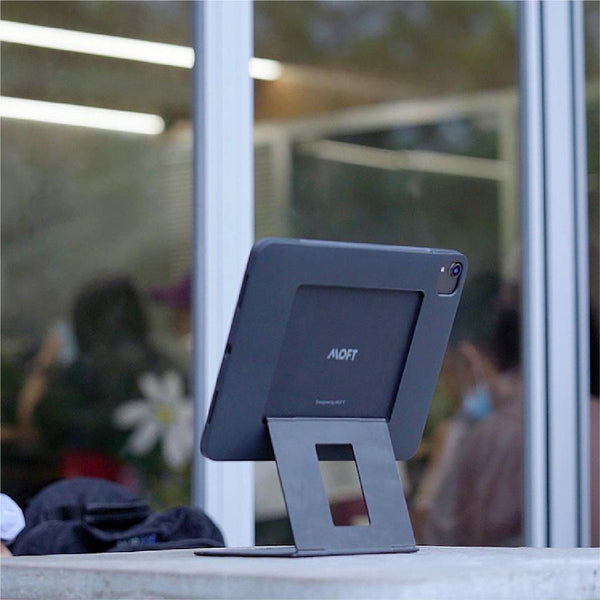 MOFT Float: Don't Just Stand, Float.
With the fast-paced and high-tech world we live in today, things are mostly on-the-go and virtual, even your work. Everything is mainly found on your laptop or your iPad. This is why there are plenty of new brands that offer ways to make things more convenient for your work all-over-the-map setup. Here at Urban Traveller & Co, we present you with one of MOFT's innovative products that will help you take your work anywhere without the hassle.
Work in style and comfort with the MOFT Float. This sleek and durable device eases you from neck, shoulder, and even back pains with its lightweight and easy-to-set-up design. Featuring a built-in adjustable stand, you can set it up in its floating mode, stable mode, or portrait mode. The MOFT Float can be set in different heights up to 3.15 inches and unlimited angles to keep you comfortable while you work. 
Meanwhile, this product also boasts its durability. Its aluminum alloy foldable stand is very flexible yet sturdy enough that it could withstand 8000 times of closing and opening without loosening. 
Need a laptop but only brought your iPad? That's not a problem! The MOFT Float is also designed to turn your iPad into your own professional laptop with its portable keyboard and Apple pencil. You can build your own workstation anywhere you go and connect the keyboard to up to three (3) devices simultaneously. The available sizes of the case are compatible with the 11" iPad Pro, the 11" iPad Air 2020, and the 12.9" iPad Pro.
On top of this, you can also add an apple pencil case. This optional product is designed with a magnetic lid that protects your Apple Pencil 2, keeping it from getting lost. It allows you to quickly pin your pencil directly to your iPad or your MOFT Float Case when pairing or charging.
Flaunt your MOFT Float anytime you want and keep the stand invisible when you need it.