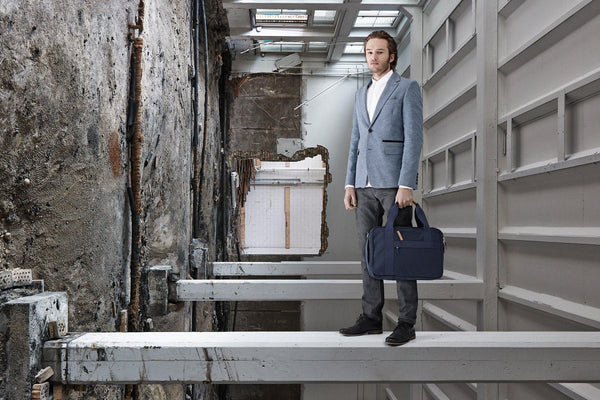 QWSTION - The Most Versatile Light Bag For The Modern Urban Lifestyle
Urban Traveller & Co. brings you the brand that traces its roots from Switzerland. 
Good answers are always the result of the right question.
QWSTION's goal is to create bags for people in a modern environment. And if you're looking for a bag that suits your way of life, then QWSTION can get you there. 
The QWSTION bags are designed with the modern metropolitan individual and his demand for mobility and flexibility in mind. Besides questioning how products are designed and made, the focus is put on the integration of functionality in a distinctive visual language. Each product offers various carrying options.
The results are hybrid products that deny the usual categorization, that has its own niche in the market inbetween high fashion and functional utility.
 ORIGINS
The QWSTION story started in 2008, when Sebastian Kruit joined forces with the creative dynamic of Swiss industrial designers Christian Kaegi and Fabrice Aeberhard, graphic designer Matthias Graf and Hannes Schoenegger.
Thay had all been searching for a bag that closes the gap between functional sports bags and elegant fashion bags. As nothing on the market could satisfy their needs, they founded the brand in the former industrial district of Zurich, Switzerland. The desire to create products that are for everyday use and independent in style led to the development of bags that work just as well on a bicycle as in a business meeting. They questioned the norm in matters of look, function and construction and pursue the integration of these aspects in the designs.
MATERIALS
QWSTION generally use as environmental friendly materials as possible and keep improving the standards.
The shell materials are natural fabrics such as cotton, hemp and linen, with water-repellent coatings. Nylon or Cotton is used for belts and straps, and the metal parts are made of aluminum or steel. The vegetable tanned leather handles and details darken and become softer over time. Natural materials generally tend to have irregularities, which are embraced as a quality that adds individual character to the look of the bags.
For more of QWSTION, shop online at www.urbantravellerco.com or visit the UTC Pop-up Store in Greenbelt 5, Makati City.
Visit www.urbantravellerco.com or follow @urbantravellerco on Instagram and Facebook to see more of what #youreverydaycarry should be. 
---