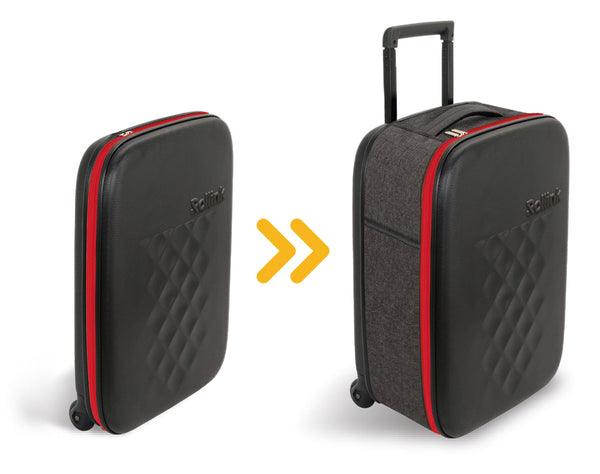 Rollink: Functional Carry-On for Your Weekend Adventure
Eager to travel soon? We hear you.
Are you backpacking with friends who always want to move around? While it is almost always impossible to have hassle-free trips, the Urban Traveller & Co. found a solution that will make you leave all your travel hassle concerns and appreciate your incredible journeys with your family and friends.
Grab yourself the Rollink Flex 21" Carry-On luggage. This handy suitcase is the practical solution to a wide array of travel standards and personal needs and styles. With its innovative and functional design, this travel must-have easily won the Buzz Award 2020 and Product Innovations Award 2020.
This ingenious Israeli product highlights several remarkable features that will make your holidays seamlessly fun and exciting. It can spaciously accommodate 40 liters capacity, fitting for your short trips or weekend getaway! This amount of storage allows you to enjoy a clutter-free stash perfect for all your travel essentials.  
If not in use, fold this luggage down to up to 2 inches thickness. It has a water-resistant fabric interior and sides that let you size it down to a compact range; thus, giving you more storage space in your room or cabinet.
Moreover, the Rollink is covered with the hard-wearing Polypropylene Hardcase to keep your things safe from frustrating shocks. This sturdy construction brags its maximum resistance to impact without sacrificing its overall weight. In fact, this item is one of the lightest luggage out there, weighing only 2.2 kg.
Worry not as you buzz through the crowds as the brand designed it with ergonomic telescopic handles and easy-to-maneuver wheels. Also, this carry-on has easy-access pockets; thus, there is no need to rummage through your stuff looking for your chargers, headsets, and tickets. 
The lightweight and sturdy Rollink Flex 21" Carry-On luggage is your best option for your easy-going weekend travels. It bears all your travel needs with a space-saving configuration for its off-the-course storage. Snag a piece to experience your much-deserved laidback cruising.