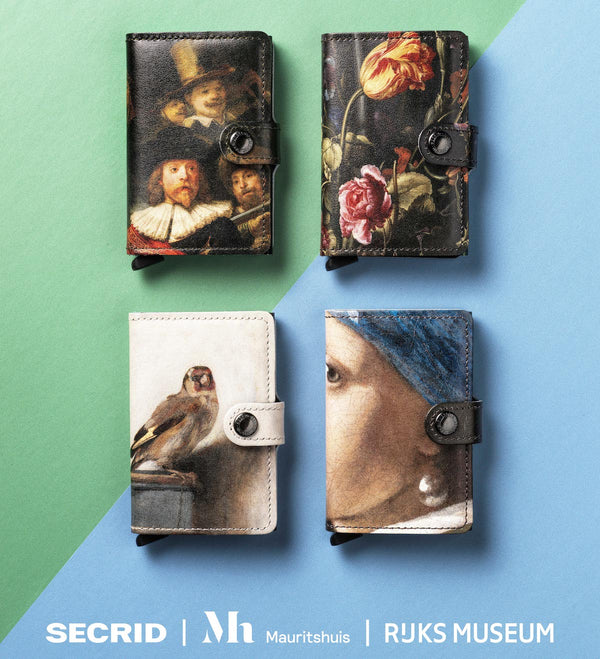 Secrid Limited Edition Art Collection: True Works of Art
Secrid is unstoppable in recreating its renowned mini wallet collection to make it more high-toned, while retaining its functionality for our every day hustle and bustle.
Secrid Mini Wallets have been dressed with Dutch paintings of the Golden Age. This limited-edition series features four masterpieces from Mauritshius in Amsterdam and Rijksmuseum in Hague. This partnership aims to bring some of the illustrious artworks to your pockets.
Before the painting process, each of the limited-edition items has undergone a series of tests to determine how this print will develop on Secrid's Italian calf leather. Worry not about color bleeding, as the brand confirmed that image retains on the leather after strings of experiments. 
Each iteration displays an artwork that has been carefully reproduced on Secrid's premium leather wallets, even the most minor details like cracks on the paint, to make the wallet more distinctive in a big way.
Still Life of Flowers with Crown
Painted by a preeminent painter of Jacob Vosmaer, this painting is from the Rijksmuseum. Flowers were one of the Dutch's favorite subjects during the Golden Age and symbolized Dutch culture.
The Goldfinch
Painted in 1654, this all-time favorite art paint is a masterpiece from Hague. Featuring a goldfinch in life-size, this feathered animal is well-known for its whip-smart antics. The Goldfinch painting became more popular after the success of a novel written by Donna Tart. Countless fans have mustered the Netherlands to get a glimpse of this renowned canvass. 
Girl with the Pearl Earring
Painted in 1665 by Johannes Vermeer, this painting has been dubbed the Mona Lisa of the North. With the girl's mysterious smile and glance, this image showcases the unmatched capability of Veneer in playing with the lights. 
The Night Watch
Rembrandt Van Rijn demonstrates his expertise in playing with light and shadow in his Night Watch painting. He attempted to display a contrast between light and dark to emphasize several stunning details.
Bringing art, sustainability, and functionality together, check out Secrid's latest limited-edition offering exclusively available at Urban Traveller & Co Greenbelt 5 and
here
at our online store.