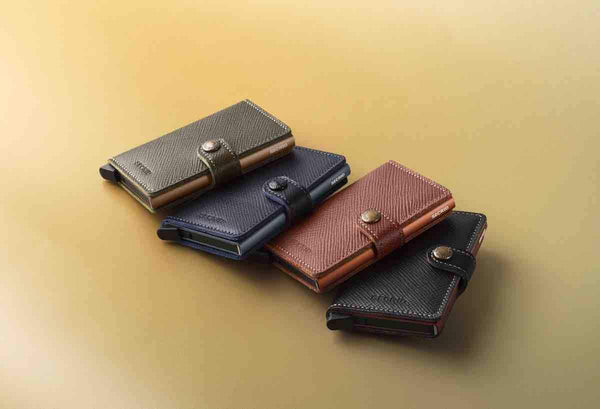 Secrid: Sparking A Better World In Our Pockets
The Secrid brand has been unstoppable in turning Industrial Revolution into Industrial Evolution. The brand carefully manufactures its pieces in Germany, Italy, and Holland and uses radical leather products while taking extra care of its people and the environment.

Known for its Cardprotector breakthrough, Secrid wallets are inserted with the innovative aluminum core. This technology avoids breakage or bending of cards while keeping the wallet's slim profile. It also protects our cards, money, and identity from being tracked by blocking unwanted wireless communications, such as RFID (Radio-Frequency Identification) and NFC (Near Field Communication.) 
Twenty years after the brand has launched, Secrid has brought in countless premium-made, sustainable pocket-sized essentials. The brand holds an impressive collection of leather variants that can definitely cater to a wide range of clientele. For wallet buyers who prefer muted tones, Secrid offers the classic smooth and glossy Original leather. Meanwhile, the upbeat Crisple leather is for buyers who crave a style inspired by several high-end fashion houses.
As an addition to its formidable leather products, Secrid launches two prime and princely leather spinoffs for 2021 - the Secrid Saffiano and the Secrid Twist leather.
SAFFIANO LEATHER
Made, cut, and stitched in Holland, this lush leather variant is famous for its clean diagonal lines and cross-hatch pattern. The Saffiano leather has been a favorite finish for countless premium leather goods as it showcases timeless, ageless flair. Moreover, it is made from European cowhide, popularly known for its durability and resistance from scratches.
TWIST LEATHER
Displaying the look of iconic classic textile, the Germany-made Twist leather offers a premium vibe and durability. It has a duo-toned twill fabric charm that is also made with the top-notch European cowhide. This kind of leather is built with durability and sophistication, creating a more luxurious overtone.