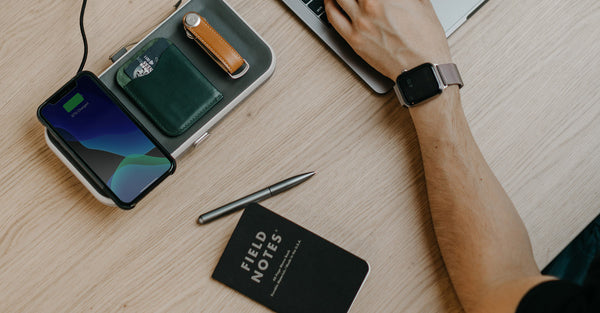 February Pairings: Some things just… work.
Urban Traveller & Co. is proud to bring you its curated collection of perfect pairings, bound to integrate seamlessly into your life and maximise it to its fullest.
Caramel and salt… Strawberries and balsamic vinegar… Iced coffee in the summertime. Perfect pairings exist in the culinary world as an expression of our devotion to flavour and the shameless enjoyment of living. The world of haute couture lives on perfect pairings and combinations, and it's not an impossibility to take that aesthetic into our daily living.
Secrid RFID-Safe Card Wallet and Orbitkey Key Organiser
Revolutionising your everyday essentials isn't an easy feat. There's only so many ways to go about that; how would one go about making your card wallet and keys more compact and accessible? Enter Secrid's iconic card wallet and Orbitkey's key organiser. Small, mobile, clean, and sleek; Secrid Card Wallet allows for easy access to your cards and cash, while the Key Organiser does the same for your keys. Made from premium and sustainably-sourced leathers, Secrid and Orbitkey are an unmistakable match.
Sttoke Ceramic Reusable Cup and Code of Bell X-Pod Sling Pack
Adventurers, this one's for you! Whether you're hiking, climbing, trekking, or what-have-you, accessible bags and reusable cups are essential. More experienced adventurous types know that ease-of-access and weight play important roles in how useful a bag or a water bottle can be, especially for more strenuous trips. The Sttoke Reusable Ceramic Cup is lightweight, easy to clean, and extremely tough; all traits shared with the Code of Bell X-Pod Sling pack, which is sizable in its carrying load yet compact to carry. Perfect for even the most rough-and-tumble adventures the world has to offer.
Knirps X1 Umbrella and Rains Backpack
When turbulent weather poses a challenge to your everyday commute, Knirps and Rains come together to say "never fear, we're here." The Knirps X1 Umbrella is light, compact, stable even in high winds, and folds easily so it takes up less real estate inside your Rains waterproof backpacks, which is clean, smooth, fashionable, and highly durable against the rainiest of days. While others are praying for sunshine, you can confidently step out and say 'let it rain.'