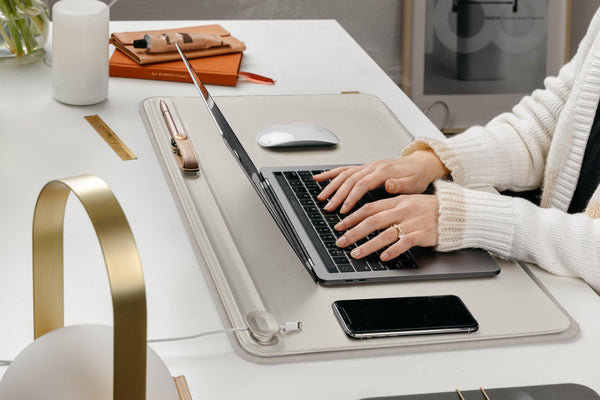 Stay Organized, Stay Focused with the Orbitkey Desk Mat
Organize your work essential with ease with the Orbitkey Desk Mat. As more people work remotely, things at home or their work area eventually get cluttered with papers, pens, paper clips, and other non-office supplies. While others thrive working in a chaotic environment, there are some who find it hard to focus and finish their tasks on time. 
With people setting up office at home and in other areas besides the office, having a reliable work companion like this proves to be more crucial. Be in your most productive and efficient mood with the Orbitkey Desk Mat.
Durable. 
The Orbitkey Desk Mat is made from high quality Polyurethane leather and has a smooth mouse and writing pad. It's also water-resistant and easy to clean.
Structured. 
Designed to be the ultimate work buddy, you can use the magnetic cable holder, which can be moved along the tool bar, to keep your work area tangle-free; a secret paper storage to prevent paper pile ups; and a a special area for small items within easy reach.
Aesthetics. 
In addition to its functional features, it's also aesthetically-pleasing. Available in Black and Stone (Gray), the Orbitkey Desk Mat is made from 100% recycled PET felt that protects your desk and lessens the noise made by typing on your keyboard.
Orbitkey Desk Mat is available in Medium (686 x 373 x 4.9mm) and Large (896 x 423 x 4.9mm).