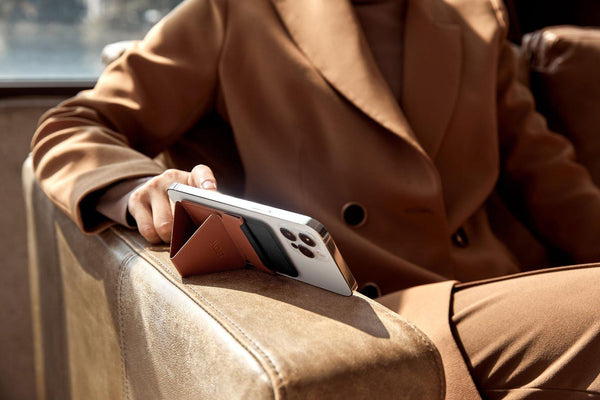 Streamline #youreverydaycarry with the MOFT Snap-On Phone Stand and Wallet
The World's 1st Snap-On Phone Stand for the Apple iPhone 12 Series
Phone wallet has been a favorite piece for commuters and city dwellers who prioritize traveling light. It gives them easy access to everyday essentials, like ID and other cards, without the need to tote around bulky wallets. 

With the countless phone wallet products that promise convenience, Urban Traveller & Co. presents you with the hottest innovative product that could take more than one task. The world's first MOFT Snap-On Phone Stand and Wallet is a MagSafe compatible product, ideal to pair up with Apple's iPhone 12 series.
Impressive Features to Check Out
As fans of phone wallets, we gladly share with you the wonders of the groundbreaking MOFT Snap-On Phone Stand and Wallet that will make our lives more manageable:
Attaches easily. Unlike conventional phone wallets, this product conveniently attaches and detaches to your iPhone or any MagSafe compatible phone cases whenever you need it. You don't need to change your iPhone casing, simply snap it on.
Attachable everywhere. Combined with the Magnetic Sticky Pad, you can handily stick your phones on any surfaces. It employs 16 magnets that keep your device firmly in place for a hands-free experience, perfect when you're cooking, exercising, or even while taking a bath.

Luxuriously thin. Its 5mm thinness makes it a barely unnoticed attachment. Moreover, unlike Apple's MagSafe Leather Wallet, the MOFT Snap-On is made of environment-friendly soft Vegan leather giving it a more plush feel.
3-card slots. It could carry up to three cards all at the same time! You don't need to slip your cards into your back pockets anymore.
3-way phone stand. Its foldable design lets you prop your phone in your most comfortable way. You can enjoy viewing your gadgets in three modes - Landscape, Portrait, and Floating mode. 
Popularly priced. Sold at half the cost of most phone wallets, you don't need to spend much. This product is offered at a price range that will not break your pockets. 
Timeless hues. MOFT offers this in colors that never go out of style - Night Black, Sienna Brown, Oxford Blue, and Grey.