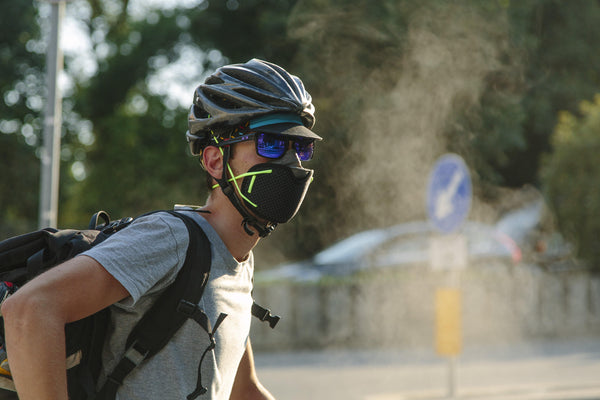 Unmask Your Style Statement with Banale
Now, more than ever, wearing a mask is a personal statement. It's not just another means of self-expression; it is being accountable when it comes to your safety, and of those you encounter as you continue navigating an ever-changing world.
Urban Traveller & Co. (UTC) understands that in this "new normal", to live is to take no chances. Through Banale, UTC makes it possible to gain protection without compromising style, with masks designed to keep dust, pollen, pollution, and bacteria out.
The Pollution Solution: Banale MASK 
With the goal of warding off pollution, the Banale MASK is equipped with an interchangeable filter that is made by combining 7 filtering layers and activated carbons, making it up to par with European standards. It boasts full protection against particulate matters (PM 2.5 and PM 10), pollen, and bacteria, as well as an innovative design geared towards comfort.
The Banale MASK pack comes with 1 all-black mask and 1 anti-smog filter.
Wash and Wear: The Banale ACTIVE MASK
The Banale ACTIVE MASK is a must-have for the most mobile city-dwellers. Made from a special foam, the ACTIVE MASK loops gently around the ears, entrapping pollen, dust, and bacteria that may be encountered on the road. The mask can be re-used after washing it in cold water, and despite continuous exposure to the elements, the Banale ACTIVE MASK will stay fresh and aspirant, thanks to an elastic lycra component.
The Banale ACTIVE MASK is available in black, blue, and green.
The Secret's in Silver: Banale SILVER MASK
Born out of a growing demand for masks, the BANALE SILVER MASK emerges from Kickstarter and lands to the fore as a high-performance, high-fashion breathing mask.  Aside from the trademark antibacterial layer, activated carbon, and an interchangeable filter that made Banale masks a hit, this newest addition to the roster has antibacterial silver that boosts the protection it gives to health-conscious people and urban commuters.
The Banale SILVER MASK fits all and has a replaceable filter to go with it.
Don't fall prey to a future filled with uncertainties. Take matters into your own hands. Get out, explore – but don't forget to put on your mask