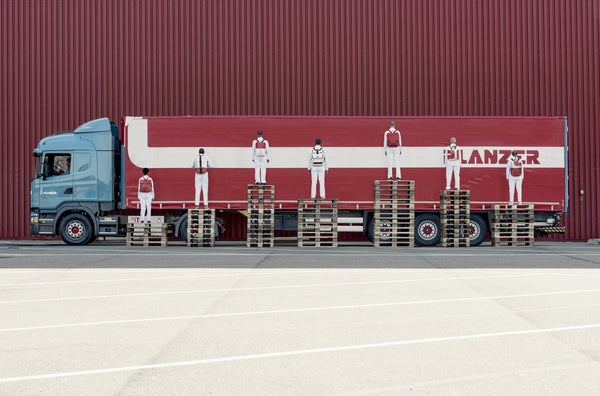 Upcycling is In: The Stories Behind Freitag
Nearly a couple of months after its official launch in the Philippines via Urban Traveller & Co., European outfitter Freitag continues to catch the meticulous eye of Filipino urban travellers. Its bags and accessories stand out from the rest with their endearing ruggedness that seem to speak volumes… but just how did such a brand come into existence?
Tarp Blanche: From Truck Till Bag
Because it's better to show than tell, Freitag collaborated with artists around the globe in re-imagining how the popular brand works its upcycling magic. With their Tarp Blanche campaign, talented animators brought the Freitag story to life in a creative way.
#TarpLife by CraveFX
This video by Singapore-based animation studio CraveFX stars a tarp named "Tarp" who longs for a better future. It chronicles Tarp's adventures on the road in pursuit of his big dreams. It turns out to be a journey of a lifetime.
The Picking by Burcu and Geoffrey
Directors Burcu Sanku and Geoffrey Godet gave Freitag's story a Parisian flair complete with detailed animations and an overall graphical look. It's an adorable masterpiece in 3D that will take viewers on a trip around the countryside.
Made for/from Each Other by Vik & Nes
Victor Jardine and Ines Pagniez of animation collectives from Stuttgart and London gave the classic Freitag story a romantic twist. Fans are guaranteed to fall in love with the story, the animation, and with Freitag even more.
Big Buddy Blue by Team Tumult
Beni and Frederic of Swiss creative collective Team Tumult came up with a vibrant clip that vividly tells the story of Freitag using sharp illustrations and distinctive sounds. It's an explosive take on a brand that continues to make waves across the world.
Flythrough by Gabriel Agustin Freire
In just a little over a minute, Argentinian illustrator, animator, and producer Gabriel Agustin Freire managed to show viewers how each Freitag bag is born. It's a lively splash of colors that perfectly accentuates the fluidity of the artist's storytelling.
Truckin' by Neil Stubbings
Zurich-based Swiss-British motion director Neil Stubbing's creation is a monochromatic wonder. Shooting from an incredibly wide arsenal of characters and styles, it's hard not to be mesmerized with this video that perfectly describes what Freitag is all about.
Honk, Honk! Freitag Makes Its Way to Manila
During the launch of Freitag in the Philippines, the public also got a taste of Tarp Blanche soaked in Filipino flavor. Produced by Acid House's formidable team of designers, illustrators, and animators, Dust Road Renegades highlighted various aspects of the Philippine street culture. Food, transportation, and various other scenes reminiscent of a quintessential Manila breathed life into the international brand that is Freitag.
"In this collaboration with Freitag, the studio was thinking about a unique way of showing the 'From Truck Till Bag' process, something that's fun and not too overbearing," said Ivan Despi, who heads Acid House along with his wife, Pauline. "The idea they decided on was pretty simple -- have each step of the process represented by a truck of its own, barreling down the highway, with the tarp passing from one vehicle to another. As for where the tarp will come from, why not set the chain off with a gut-wrenching, guitar-shredding, outrageous rock gig on wheels?"
And just like a rock gig, the video has an appeal that hypes audiences and makes them embrace the Freitag vibe.
Upcycling the Upcycled: Freitag's Open Bag Surgery
Since it's easy to get attached to a Freitag bag, some may find it hard to part with one that has seen better days. However, with Freitag's "Open Bag Surgery", farewells are not necessary.
With its very own tarp surgeon, Freitag can give a new lease of life to old or holey bags by welding tarps, filling holes with color, sewing up corners and replacing old inner tubes, logos, Velcro fasteners, seatbelt straps and Lockmonsters.
Freitag offers services from free replacement parts such as straps and buttons that customers can fit themselves, small repair jobs without tarp surgery that they carry out for free up to three years after purchase, to the full F-bag overhaul service in which tarp surgeons make beloved bags as good as new.
Freitag is available exclusively in Urban Traveller & Co. stores located at Greenbelt 5 and Ayala Vertis North, as well as at the Spectre Manila pop-up store in Bonifacio High Street. For more information, visit www.urbantravellerco.com.