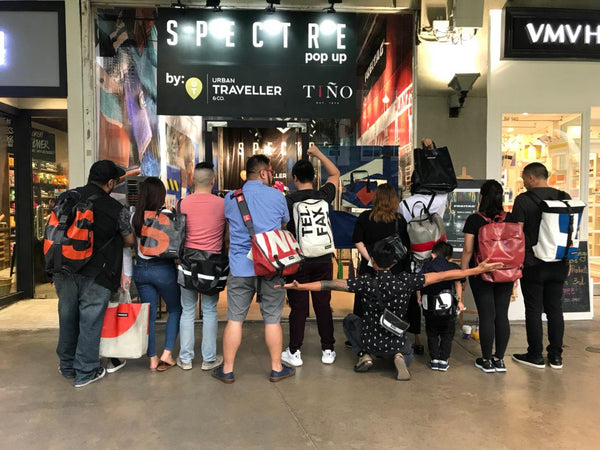 Urban Traveller & Co. heralds dawn of a fashion movement with the launch of Freitag in the Philippines
June 30 may have just become an important date for urban travelers in the Philippines, as it marks the arrival of popular European urban outfitter Freitag in the metro via Urban Traveller & Co. (UTC)
A lively crowd gathered at the newly-opened Spectre Manila pop-up store in Bonifacio High Street, Taguig City on the said date to commemorate the official launch of Freitag in the Philippines. According to UTC's President and Chief Curator Hans Kenner Fernandez, Bonifacio Global City is a "good venue" that breeds a "good community" -- a place where Freitag can truly shine as a brand and lend its unique flair to the market.
During the event, guests gained access to fresh stocks of Freitag. Among them were UTC patrons Ibba Rasul-Bernardo and Vince Golangco, both of whom share an admiration for the brand.
"I've known the brand for a long time. I like going to hipster areas abroad, and I always end up in Freitag stores. I love what it stands for and I love its utility," said Rasul-Bernardo. Despite being a new follower, Golangco claims that Freitag already has him under its spell. "I just recently knew about the brand, but I fell in love with the story behind it. I was told how environment-friendly each bag is, and that the people from Freitag are trying their best to reduce their carbon footprint. The whole shebang felt like a brand that I really want to get behind."
As a treat from Freitag and UTC, all attendees had an opportunity to create their own F-aker keyholders. They got to choose materials from a collection of tarps in different colors and sizes, and each customer tried to match their F-aker keyholder with their newly-purchased Freitag bag.
At the heart of the store, three ensembles caught the eye of guests. These were couture pieces inspired by Freitag bags and created by budding Filipino fashion designers Tasha Jireh, Emiko Muraoka, and the duo of Abraham Guardian and Mamuro Oki, collectively known as Ha.Mu.  
On her masterpiece, Jireh said: "I thought that my Freitag bag resembles a Filipino traditional tattoo named "batik", so I wanted my clothes to be a representation of that. Just like Freitag, I also upcycled these with used muslin cloths and retasos."
Meanwhile, Muraoka worked on a collection she named "My Sweet Summer Rain", which is wearable given the Philippines's tropical weather. "I was made to choose a bag that represents my personality. I chose a pink-and-yellow Freitag bag because I'm a witty and happy person, but a bit mysterious, too. I wanted to create something that is reflective of my personality and can be worn during this time, so I went with a sunny, water-proof coat that is a reinvention of the 'kapote' or raincoat."
Representing Ha.Mu, Guardian talked about the concept behind their avant-garde piece and how Freitag ties in with the overall look. "We tried to experiment on the idea of fashion meets function, which Freitag represents. We wanted to try making artisanal pieces with a twist. We turned home stuff into fashion: We actually tried to focus on using fabric straps and turning them into interesting details."
Before the program concluded, Freitag's Ambassador for Southeast Asia Douglas Koh expressed gratitude to those who joined the launch and delivered a short but meaningful speech about Freitag. "We're really thrilled to have entered the Filipino market. Seeing all of you here supporting us makes me feel really great. The main thing about Freitag is that our philosophy is acceptance of imperfection. That's what we stand for. Our philosophy is "wabisabi" also -- it means that all things in life will grow old, and nothing remains perfect forever. In essence, that's what we show with our bags."
For more information on events, new brands, and promotions, visit www.urbantravellerco.com or follow UTC on Facebook and Instagram at @UrbanTravellerCo.