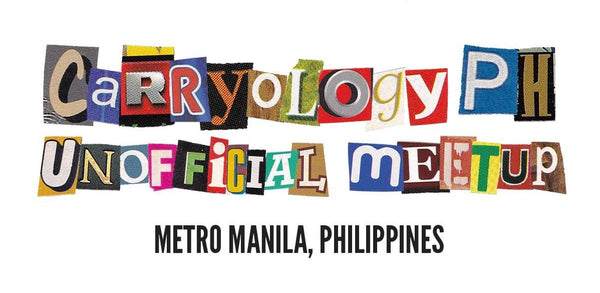 Urban Traveller & Co Presents: The Ultimate #EverydayCarry Gathering!
Stay Organized, Stylish, and Prepared: Join the EDC Enthusiast Event of the Year!
Greetings, EDC Enthusiasts!
We are thrilled to invite you to the most exciting event for all things #EverydayCarry hosted by Carryology Philippines Enthusiasts and Urban Traveller & Co.
Get ready to dive into a world of organized functionality, sleek designs, and essential tools that perfectly suit your daily adventures. Whether you're a seasoned EDC pro or just starting to curate your perfect carry, this event promises something special for everyone.
**Event Highlights:**

**1. **Exclusive Product Showcases:****
Discover the latest and most innovative EDC essentials from renowned brands. From multifunctional wallets to compact multi-tools, be the first to explore cutting-edge gear designed to elevate your everyday routine.

**2. **Community Networking:**
Connect with like-minded EDC enthusiasts and share your passion for practicality and aesthetics. Swap stories, tips, and ideas while building lasting relationships within the #EverydayCarry community.

**3. **Hands-On Experience:**
Immerse yourself in an interactive environment where you can touch, feel, and test out the gear that piques your interest. Get firsthand experience with the products before making your selection.

**4. **Exclusive Discounts:**
Enjoy 15% discount and offers on a wide range of EDC essentials. It's the perfect opportunity to upgrade your gear collection without breaking the bank.

**5. **Giveaways and Prizes:**
Participate in exciting raffles and contests for a chance to win some of the most sought-after EDC items. Don't miss your shot at walking away with a fantastic prize!

No pre-registration required.

Mark your calendars and don't miss the chance to be a part of this exceptional gathering that celebrates the essence of preparedness, style, and everyday functionality. Join us and let's take our #EverydayCarry game to the next level!

See you there!

**The P500 door fee is an initiative of the main organizers of the event (Carryology PH Enthusiasts). No amount or percentage thereof will be given to Urban Traveller & Co. or AlterEgo.