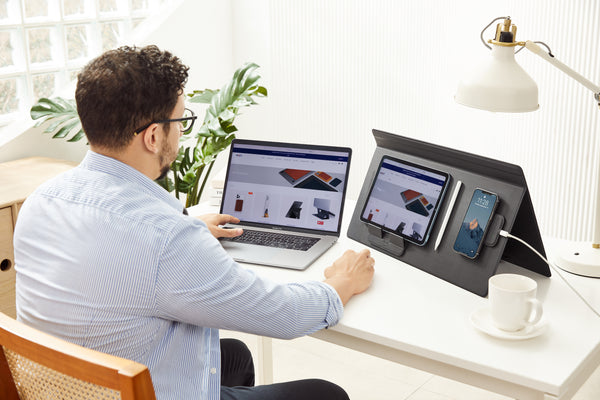 Who's the SMARTest now?
Prime Yourself for Productivity with the MOFT Smart Desk!
Looking for a chic, productivity-boosting desk mat for your gadgets? 
 
Before checking out whatever's in your cart, read the four reasons why the MOFT Smart Desk Mat is a must-have work accessory. 
Ultimate versatility 
Did you know that the MOFT Smart Desk Mat is more than just a desk mat? It's also a notebook stand and organizing board in one that helps organize your clutter and boost productivity and creativity. 
 
Make organizing your desktop easier as this mat is designed with proper spots for your Apple watch, notebook, tablet, phones, cables, memos, and other stuff. Easily attach them magnetically or snap through provided accessories. 
 
Enjoy a full multi-screen ecosystem that puts everything you need to focus on at eye level. 
Focus and productivity
What's smart about the MOFT Smart Desk Mat is that it has two built-in NFC (Near Field Communication) functions, which are essentially hotspots. So now you can easily configure apps – like productivity apps - to help boost efficiency.  
Work anywhere comfortably
You want to move around and switch it up by working at your desk, couch, or bed? No problem! With the MOFT Smart Desk Mat, not only can you adjust the angle of the stand to elevate all your devices at the same time, but it also comes with a detachable lap/wrist cushion for your comfort.

Built for business
The MOFT Smart Desk Mat is designed to be durable, incorporating both fiberglass and metal sheets. But while built to withstand your heaviest workload, it does not sacrifice style with its chic, minimalist design and soft, velvety vegan leather. 
It measures a compact 19.8 x 7.7 x 0.3 in (50.4 x 30 x 0.7cm), which means you can easily slip it into your bag and bring it anywhere you choose to work.  
If you're looking for a great companion for your work (or hobbies), consider this to be at the top of your list! Improve your desktop/ working experience with the MOFT Smart Desk Mat.