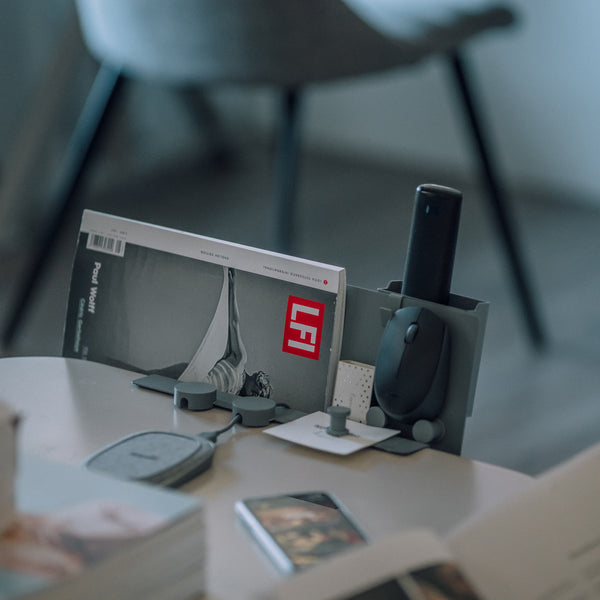 Zenlet Rack Series: Freedom of space in your workstations
Want to free up space in your workstation? Besides digital and mental clutter, which have taken our lives most of the time, physical clutter is the easiest one to manage. Give yourselves a favor by purchasing the Zenlet Rack Series. Check this mind-blowing multitask organizer here at Urban Traveller & Co., and you'll see how it will do wonders for your well-being.
The Zenlet Rack series is a drawer-free decluttering system designed to boost your productivity. It is basically meant to end your endless workspace clutter problems by organizing your documents, books, and tangled wires.
The modular accessories of Zenlet allow you to unleash your creativity by arranging it according to your needs. Made with aircraft-grade aluminum alloy, the Rack series is comprised of a Rack that holds large objects, a Clip that fastens small things, and Baseplate that organizes wires and cables. 
The core of the three, the Rack, is an accessory that can firmly hold your books, favorite magazines, and even your go-to documents. It has an off-the-table blueprint that lets you enjoy your tabletop while keeping it clean and clutter-free. 
Meanwhile, the Rack Series offers the Clip to make your micro-organizing a bit more fun and easy. This tiny but mighty binder can strongly hold your cards, receipts, and even your mails. 
To help you organize your snake-pit wires and cables, Zenlet has the Baseplate. This accessory can hold your wires to prevent them from tangling or getting untidy. Stick it on the side or top of your tables, and it will help you sort out your snarled cables.
What makes the Zenlet Rack series more exciting is it allows you to enjoy flexible organizing possibilities. By adding more extensions, like a magnetic box for your pens, a hook for your laptop bag, and pins as your phone holder, you'll get to enjoy a wide array of organizing styles with ease. 
Enjoy all these and more with the Zenlet Rack Series. With its hassle-free installation and easy removal, requiring no tools at all, freeing up your mind with unruly clutter has never been this easy.