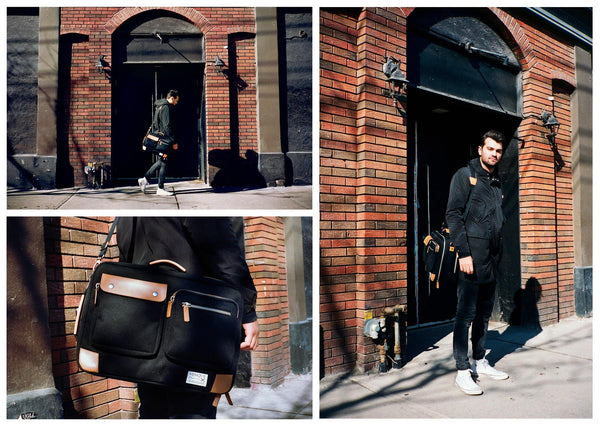 Venque - A Childhood Dream Come True
The flagship brand of Urban Traveller & Co. is Venque. This has been my favourite bag for the past two years as I got to know the inspiration behind the story.
Venque was founded in 2011 by two brothers - Simon and Viktor Cui. Together they said that one day they would come up with their own label that would embody their passion in design. Bags for them are not just products to carry things around. They carry your precious memories and experiences with you wherever you go. 
Simon, the designer of Venque, wanted something more. Here was a craftsman in  search of the finest material for his masterpiece. He has dedicated time into researching the highest quality materials to ensure products are both timeless and built to last. He was not satisfied with what was out there, so he decided to invent it.
Introducing the Quanta Fabric - What sets Venque apart from all the other brands.
Bored with existing bags and traditional looks, VENQUE blended Quanta fabrics into bags. What makes Quanta unique is that it is constructed with a high-quality raw yarn and woven into layers for a high-end finish. A thin wax coat is added to the fabric to further enhance durability of the bag. Quanta fabric is so strong that it is resistant to water and extreme heat and cold conditions. All VENQUE bags are made with Quanta fabrics.
Simon designs with a passion. This has been his childhood dream together with Viktor. The brothers believe that commitment in design and a focus on quality will make their dreams comes true; a dream of building a brand that signifies beauty, quality and affordability.
VENQUE.COM - Kickstarter Video - Toronto Handcrafted Luxury Bags from Valentina Dang on Vimeo.
 The result is a brand that boasts superb quality and unique characteristic design at an affordable price.
 The first of the distinct line of Venque is the Flatsquare:
Designed for urban trendsetters and commuters. The Flatsquare offers a unique shape with our signature combination of Quanta fabrics and real leather. The media compartment fits a 15" laptop and its accessories perfectly. 
The Flatsquare comes in two versions - The Standard for Males and the For Her for Females. The only difference is in the size.
Females:
Size: 15"H x 12"W x 4.5"D

Fits up to 13 inch laptops
Males:
Size : 17"H 13.5"W 6.5"D
Fits up to 15 inch laptops
The Flatsquare is a differently designed backpack. You won't find this kind of design and fabric elsewhere. It comes in 6 colours - Black, Grey, Brown, Wine, Denim and Yellow.
Be sure to tune in as we'll feature the other lines in the next few days. Next up for Venque is the weekender. Time to pack like a pro!