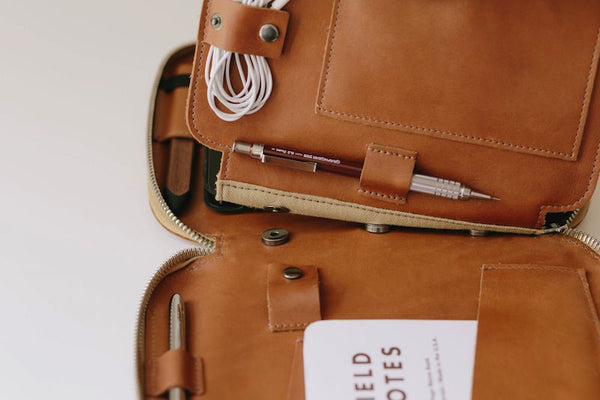 This Is Ground - A Design-Focused Brand
We're introducing This Is Ground on the blog today. A design-focused, functional carry line that provides luxurious carry items for the smart urban professional who understands essential protection and style for gadgets.
We've looked all over the world and curated the best carry accessories to fit your lifestyle. And today, we're highlighting a line that focuses on your tech necessities.
Bestselling item, This Is Ground Mod Laptop Cognac 
For business professionals, there is no better line of products than This Is Ground. Hailing from Los Angeles and Italy, the line mixes two world leading styles with the protection of the tools essential to your successful career. Our line carries laptop, tablet, mini and iPhone 6 and 6+ protection in the most stylish way possible.
In a cognac themed case, the TIG Mod Laptop comes as no surprise. It features over 12 different compartments that carry all of your much needed items for meetings in coffee shops, conference rooms, and on-the-go travel. Imagine going into a meeting, where first impressions are key, and pulling out this beautiful piece of artwork. It just works.As technology evolves, no other carry line focuses specifically on the evolution of old and new school packaging needs. The carry item fits your pin and paper to tablets and laptops, all in one. It not only carries the items you need to win a meeting, but carries all your accessories in a customized, neat and presentable way for business.
The TIG Mod Air Toffee carries a tablet easily and speaks it's own style and artistic preference each time it's used for communication and creativity. For those looking to bring a functional piece of style to their look, this is a perfect fit. It exudes masculinity, but is elegant enough for a woman.
This Is Ground's moto is to "Always Create Something Amazing," and the Philippines market of change makers has been doing this for decades. Our mission is to bring the look and style that creativity deserves to your carry items.
Check out Ithyle Griffiths' use and design of This Is Ground. If you're a creator, designer, tech geek or style maven, this brand is for you. You'll see example after example of how your entire creative arsenal fits into one convenient piece of art. Each of these carry items have been designed with your creativity in mind. Musicians especially love these because of the emphasis the brand has put on multiple functionality for pockets, sleeves and the slim matured curves of the line.
If you're in a creative role, you know how important the energy around you and your workspace is to your success. In fact, there are multiple examples of how this creativity is affected by your surroundings.
These open profiles show exactly what these products are best used for. We encourage all of our customers to do their research, imagine how they'll use our products, come onto our store and try them out. What you'll find is what we found when sourcing these... creativity can be encouraged. It's encouraged by your surroundings, what your senses see, feel and hear.
If that's important to you, then This Is Ground is worth checking out.
--
A Note On Stylish Creative Carry Items
For a long time, carry items were ruled by boring, poorly designed manufacturers. We're proud to be one of the first stores in the country that focus on quality of design and style that represents your creative mind.
Each one of our carry items is sourced by our Urban Traveller team. We are adding new brands and styles all the time. We love to hear your feedback and requests, so please, tell us what items are your favorite and why!