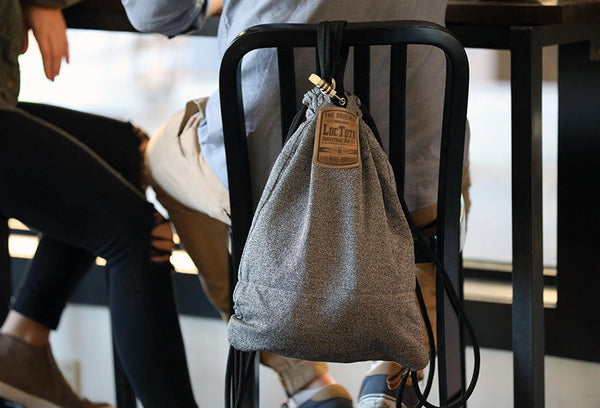 Loctote - The Best Anti-Theft Waterproof Drawstring Backpack
Urban Traveller & Co. brings you the best anti-theft waterproof drawstring backpack.
 The Loctote Flak Sack started from the personal experience of the founder - Don.
"The idea behind LOCTOTE came as a result of a family vacation in St. Croix. My wife and kids had all gone back to the room for the day, and I decided to stay out on the beach and do some snorkeling. Before heading out into the water, I put my phone, earbuds, and cash in my shoe, which I covered with a towel and left on a beach chair. I swam out about 100 yards, and when I looked back to shore, I saw an individual shuffling through my stuff on the beach, and then walk away with something in his hand. I yelled to him, and swam back to shore as fast as I could, but by the time I got there, both he and my stuff were gone. This was a real downer for the vacation, and I decided that I needed a solution to prevent something like this from ever happening again.
That night I got on my laptop (because that's what I do on vacation), and I began my search for a solution to the problem. To me, the problem was more complex than just a way to prevent my personal items from being stolen when I was at the beach. I had a whole list of requirements for this product I was seeking. First and foremost, I wanted a way to carry my personal items that would enable me to securely fasten them to a stationary object so they couldn't be tampered with or stolen. In my mind, this would require a locking mechanism that couldn't be broken, cut, or torn, and the container itself also needed to be made of something that was resistant to cutting or tearing. I basically wanted a product that would be impenetrable to thieves of all kinds, including protecting my credit cards and passports that contained RFID chips from unauthorized scanning (digital pickpocketing). Conversely, I wanted something stylish, attractive, and functional — something that would seamlessly fit into my everyday life, that I would enjoy using and be proud to be seen using. More and more, this was sounding to me like some kind of a bag.
That's what I needed — an everyday "go to" bag that would meet all my technical requirements, and still be soft, foldable/packable, comfortable, highly functional, attractive and fashionable, and durable — and one that my wife would want to carry too. That shouldn't be hard to find, I thought. Well, it was. In fact there was no product on the market that was even remotely close to what I was looking for. All the products that were marketed as theft-resistant were a joke — all kinds of clever little clips, doo-dads, and fancy zippers that any thief could cut through or break off in two seconds. After exhausting my search, I began the process of creating the bag I was seeking. It took hundreds of hours of research, and countless prototypes and failed attempts. In the end, we have created a product that will blow your mind. Bags that are soft and beautiful, packed with features, and insanely durable. Some people say that our products are overkill, and that we must be over-compensating for something. Maybe."
We've been searching for a bag that offers maximum security and we've finally been able to curate the best brand for you. Loctote has garnered a ton of positive reviews from Youtube and blogs as the claims of the bag hold true to life.
There are currently two versions - Sport and Original 
Below is a comparison table of the two:
We have a ton more announcements to make so stay tuned!