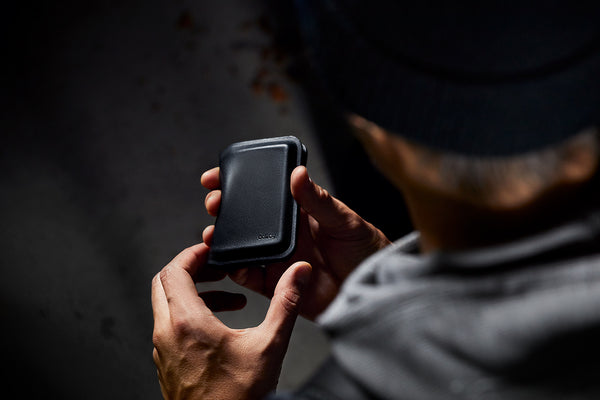 A Masculine Take On Quiet Luxury
Simple, subtle ways to make Dad feel more like The Man.
When you search '#quietluxury' on Instagram, you'll find the hashtag contains thirty-three thousand posts. That many people following this hashtag already solidifies its place in society not only as a fashion trend, but also as a new cultural attitude of the 2020's.
Quiet luxury was a refresh of the minimalism trend, now full-fledged movement in fashion that focuses on elevated basics; an updated take on the fashion principle that hones in on timelessness. It believes in doing away with bold, brash, visually abrasive colors and styles in favor of  shades, silhouettes, and fits that are pared-down. 'Classic' is the key term here, followed by an emphasis on quality, environmental consciousness, and long-term use; the philosophy being rooted in the adage 'money talks, wealth whispers.' Wardrobe then is not the sole vehicle for conveying status.
Another element of the quiet luxury movement that we feel gets overlooked, however, is items most would consider accessories—wallets and bags in particular. These are elements that are particularly lowkey in the grand scale of an outfit, especially in the case of men dressing themselves. But any man with style knows the power they feel when they put on their favorite watch: that quiet, dignified surge of power that makes them feel like they can take on the world and win? That cannot be denied.
The new Secrid Premium Collection, for starters, is the evolved form of the iconic Secrid wallet; all details carefully considered, curated, and upscaled. A new eye-catching, durable, stainless-steel metal lever and diamond-pattern bottom elevates the patented mechanism. Soft Italian leather wraps around the body of the wallet and comes full circle in the new luxury-bag inspired closure button. A wallet that doesn't date its holder, the Premium Collection features a refined, innovative, and reimagined new look and feel while continuing Secrid's legacy of championing responsible production processes. For those seeking peak design, craftsmanship, and sustainability, this is Secrid in top form. The Secrid Premium collection comes in two lines: the Frost Line of premium card protectors in Sand, Titanium, and Black, as well as the Emboss Line, featuring the Miniwallet and Slimwallet Emboss.
Bellroy Apex Note Sleeve and Slim Sleeve is a little more simplistic in its approach: utilising pre-molded leather, these wallets that stay looking new for longer. Featuring stitchless construction via heat bonding and a snappy one-handed magnetic closure, the Bellroy Apex Note Sleeve and Slim Sleeve maintain slim silhouettes and feel incredibly satisfying to hold and use. All cards, IDs, and cash will stay securely tucked away. The Apex Note Sleeve features two quick-draw card slots and two bulk storage pockets to balance access with capacity. The flat bill section is sized to fit currencies from around the globe. 
To complement your Apex collection, also check out the Apex Backpack, another piece from the Apex collection, unites 10 years of design to feature a pared-down design for adaptability, increased access to your essentials with minimal unzipping, unclipping, or unpacking, stretch pockets that snap flat when not in use, magnet buttons and dual-access zips, and an adjustable sternum strap—for those who push boundaries, and want to carry a bag that does the same. 
Orbitkey's Seasonal, Pebble Leather, and Active Key Organizers transform your keys into a neat and silent stack that's light, compact, and easy to carry. Made from smooth top grain leather and a signature, Award-winning, and secure locking mechanism, up to seven standard keys can be carried with car keys and fobs on the D-ring. The Seasonal Leather Range features bright, fun colours, while the Pebbled Leather Range showcases earthier, warmer shades, and is crafted using ethically-sourced LWG-certified pebbled leather. For sporty types, the Active range is made from durable and dust resistant TPU polymer. Through rain or sunshine, it will always have your back, especially during exercise. The Seasonal Colour, Pebble Range, and Active collections are a subdued way to use your car keys as a flex.
Finally, The Evergoods Mountain Hip Pack 3.5L brings ultimate versatility, breathability, and durability to your daily active pursuits. Its more simplistic design lends the classic belt bag into more classic territory. 3D patterning allows for locked-in hip/waist wear and is equally comfortable worn as a sling, and intuitive zipper placements allow for easy access to your essentials.  The durability of the MHP3.5 makes it ready for the trail or the town on bike, on foot, or however you choose.
The complete set of curated Father's Day gifts, complete with our top picks on pieces that are not only worth the investment, but also lend themselves to the subtlety, elegance, and sophistication of quiet luxury, is available at all Urban Traveller & Co. stores and online at www.urbantravellerco.com.