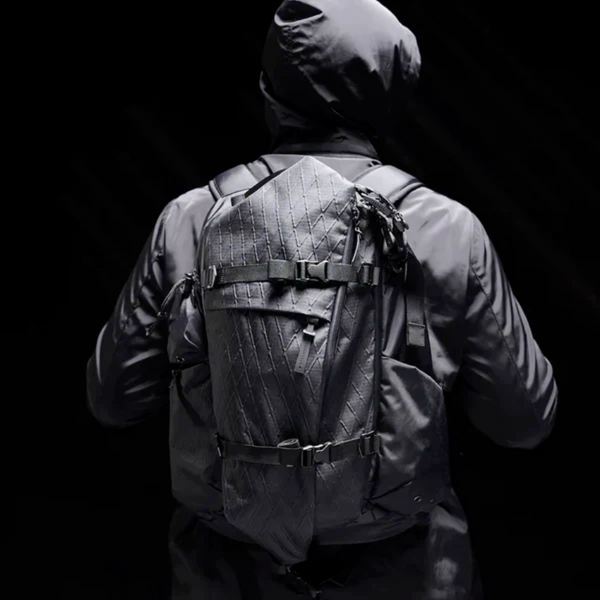 An introduction to Techwear
Who said you had to choose between fashion and function?
Whether it's in the terms "military," "utilitarian," "tactical," or "urban ninja," chances are, you've already seen the techwear trend at least once.
Coming off the heels of dad fashion and athleisure-inspired streetwear of the mid-to-late 2010's, the resurgence of techwear is a logical next step for fashion in the 2020's. Estimated to have begun as a niche subculture and movement forty years ago when "Godfather of street fashion" Massimo Osti launched the label Stone Island, techwear is adjacent to and derived from streetwear. Stone Island's initial drop was a collection of seven coats made from appropriated military truck tarpaulins, and they are now considered the forefront of the techwear trend today.
Photos c/o PURVEYR; Psalm Alfafaro for SNK ATK, Photography by Zaldine Jay Alvaro
Streetwear emphasises individuality and pop culture and centres its design principles in sportswear, but techwear's objective is to be—well, technical: strong, durable, weatherproof (wherever possible) synthetic fabrics and materials, pockets, hooks, and straps as far as the eye can see, and hardware that's functional but also inherently part of the style's aesthetic flair. Moreover, these manufacturing techniques and details are meant to feel futuristic. It makes sense that the ironic, adorkable, utilitarian styles of dad fashion melding together with more polished but personal elements like references and personality from street fashion, bring techwear to what it is today.
And what is techwear today, you might ask? Charlie Haywood, from Brighton-based menswear store, Peggs and Son, shares "I'm sure there are lots of definitions of what techwear is, but for us it is the blending of modern, man-made materials with advanced construction techniques, to create a new form of functionality. Think GORE-TEX PRO 3L and taped seams, laminated zips and ergonomic panelled construction."
As a look, techwear is rooted in military-style utilitarianism. Those most committed to this description still style themselves to reflect this militaristic trait, but have evolved to include elements of technical clothing worn by mountaineers in the early 70's to create a cyberpunk, "urban ninja" feel. Techwear also tends to avoid bright colours and obvious branding, but many offshoots of the subculture have come to incorporate colour; Stone Island themselves having defied the rules set out for the niche they themselves created by incorporating bright neons. Pieces often use high quality materials that maximise comfort, function, and give a cool silhouette that emphasises masculine features. The most popular techwear brands are known for their lightweight, durable and water-resistant materials. And apart from a variety of options to enhance utility such as jacket slings and slots for hook attachments, these design details also make the look distinct. These are the clothes that you'd wear as a secret agent hired to assassinate a robot president.
If you're looking to dip your toes into the techwear trend, the Code of Bell X-TYPE (pronounced 'cross-type') is a true everyday backpack ready for both the city and the outdoors. Compact in size yet optimal in storage, its expandable front compartment signature to Code of Bell provides added space when needed for any occasion from hectic daily commutes to weekend getaways. It also offers a clam-shell opening that allows for easy access and packing, as well as numerous pockets to store and organise your carry essentials. The  X-TYPE also is the first Code of Bell product to incorporate ECOPAK™ fabric, replacing the previously used X-Pac® material. ECOPAK™ features a similar diamond-shaped pattern like the X-Pac®, but is the world's only durable and waterproof fabric made from 100% recycled polyester fibre and film. The Code of Bell X-TYPE comes with newly custom-designed orange camo inner lining made using recycled ripstop fabric and comes in all-new hybrid colours Tropic, Arid and Daybreak. The X-TYPE and other Code of Bell products are the perfect gateway to the techwear trends, and are available at all Urban Traveller & Co. stores and online at www.urbantravellerco.com.