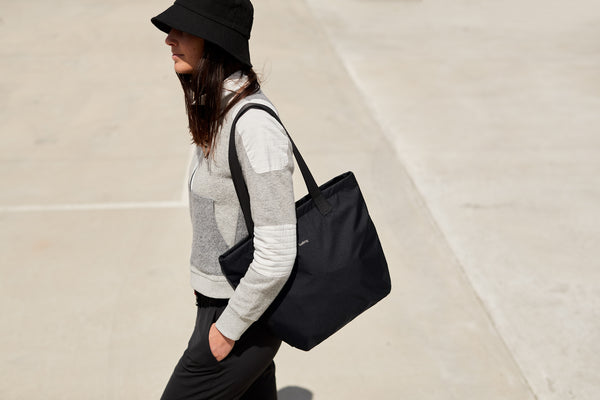 Bellroy Lite Tote: The Elapsed Evolution Of A New Classic
The Bellroy Lite Tote, made from sustainably harvested wood pulp and upcycled cotton offcuts, is the perfect midway between classic canvas counterculture and longer-lasting luxury.
The day I first saw the rise of the tote bag was about six years ago.

I was at a rooftop get-together with a bunch of friends and they were sharing about their go-to outfit for any given day, key descriptive terms being 'sleek,' 'casual,' 'comfortable,' and 'versatile.' They went on to describe a look that I was subconsciously aware of; one that I had seen in multiple instances, but only began to associate with my peers and age group when these friends had pointed it out: a loose black T-shirt, matching black jogger shorts, white Adidas Superstars, and a canvas tote bag. It's almost comical at this point to think how quintessential this look has become to both my fellow Millennials and our younger Gen-Z siblings: genderless, formless, and shapeless, yet still flattering; comfortable and utilitarian enough for taxing commutes in hot weather, yet putting forth just the right amount of effort at looking put-together. It was a casual, coordinated fit perfect for daytime, with black making it easy to transition to nighttime, so it felt right at home in the dive bars and pubs I and my friends would frequent.

Image by: Freepik.com
The look itself was also meant to be a subtle, subversive rejection of the pressure to be trendy: no bold, emblazoned logos or brash graphic statements, no colours deemed either "too out there" or "outdated". Nothing about the outfit indicated expense, exclusivity or being in vogue, and yet it managed to look as timeless and as fashionable as ever. Having sported the outfit myself at one point or another, the canvas tote was the one element that I held reservations about: it was a bag that while adhering perfectly to the look's ethos, I felt was too subversive, almost ironic. How did this bag that was once upon a time seen as throwaway, a quick convenience, a piece meant only to see the light of day for a less than an hour long run to the pharmacy, become a statement?
It turns out, that's exactly the point: Nicole Collazo Santana in an article for Vox states "the canvas tote bag is, well, a blank canvas. Yours can say a lot about you: what publications you read, where you align politically, what you believe in, what you dream of, or who you love. The customizable, mutable nature of this accessory has helped the obsession transcend generations." In the same piece, Professor Dicky Yangzom, a cultural and economic sociologist at New York University, shares "The tote bag fits a larger trend of the democratisation of fashion."
The fashion world has taken notice of this as well, but their response has been to sell luxury totes on the promise of worthwhile longevity and durability over their canvas counterparts. In an article for Business of Fashion, co-founder of Leatherology Rae Liu said, "People want a little bit more practicality. You want to be able to hold your stuff, so you want your canvas bag, but you also want it to look nice. It's not just your free supermarket bag." As a post-pandemic trend, one that sartorially represents the lifting of quarantine restrictions, the tote bag revival is a return to the status quo: Out with the tiny bags that carry merely a chapstick and a will to live, meant only to be flexed on social media; in with the carryalls that speak of you as a wearer and customer, are sustainably made, and can actually keep up with your new post-quarantine agenda.
Through all that, I can't help feeling though that whether in cotton canvas or genuine leather, we've witnessed the tote bag become a revolution. From a new iteration of the statement/slogan T-shirt, to the 2020's incarnation of the luxury It Bag, to the new essential everyday bag, the tote has culminated in the central theme of the outfit I and my friends once discussed underneath the clear midnight sky of a friendly get-together: classic.

The Bellroy Lite Tote, made from sustainably harvested wood pulp and upcycled cotton offcuts, is the perfect midway between classic canvas counterculture and longer-lasting luxury. As an extension of Bellroy's Lite range designed for play, the Lite Tote is malleable; maintaining its structure and quality even as you fold, roll, or pack it for your next adventure. A durable ripstop made with 100% PET plastic bottles makes it three times lighter than not just other Bellroy fabrics, but even most canvas tote bags. Long straps allow for easy wearing even over a jacket, coat, or oversized sleeves. A full-length, water-resistant zipper opens without obstruction to a spacious main compartment, as well as an internal zip pocket and key clip that keeps essentials and other smaller, more delicate items safe from the crush zone. Whether you're running errands, relaxing at the beach, or just looking to rock this trend in a meaningful, sustainable manner, this flexible lightweight bag is your new best friend in keeping your things neatly zipped, without weighing you down.
The Bellroy Lite Tote is available at all Urban Traveller & Co. stores and online at www.urbantravellerco.com.