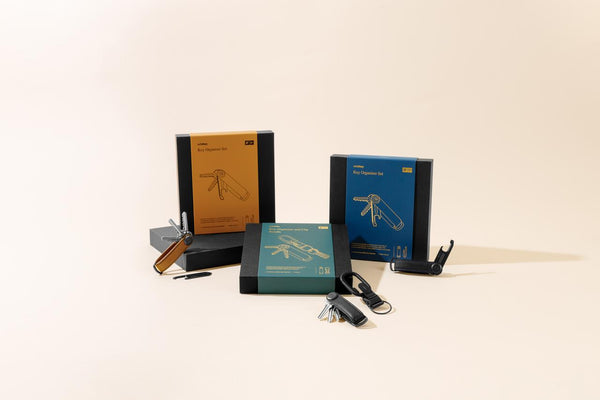 Gifting Made Easy with the Orbitkey Gift Set
The season of gift-giving is just around the corner. And to make it easier and more undemanding than ever before, Orbitkey launches three exclusive gift sets for you to pick from. 
These foolproof gift boxes contain limited edition key organizers and several renowned products from Orbitkey. Here at Urban Traveller & Co., let's unwrap these premiere gift boxes and experience effortless gifting. 
Orbitkey will launched three versions of Key Organiser Gift Sets. Each of these sets has all-new great designs that will definitely captivate your receiver. 
The first Key Organiser Gift Set is presented with Black Crazy Horse Leather Key Organiser with blue stitching. Meanwhile, the second Gift Set exhibits the amazing Chestnut Brown Crazy Horse Leather Key Organiser with Black Stitching. Both of these sets are paired with the all-rounder tool called Multi-Tool V2.
The Multi-Tool V2 is the perfect pair for the Orbitkey Leather Key Organiser as it offers a slim profile that can transform your keys with extra performance. The Multi-Tool V2 comprises a box cutter, bottle opener, pry bar, PH2 Philips-head screwdriver, flat-head screwdriver, metric ruler, letter opener, and a coarse file. 
The third fail-safe gift box features the exclusive Black Saffiano Leather Key Organiser with Black Stitching. This limited edition product is bundled up with the All Black Clip V2, which provides quick and easy access to the key. It has a streamlined profile with a wide gate opening for easy clip-on to the bag and belt loops. 
And to add a customized touch to these gift sets, buyers have an option to individualize these presents. You can personalize these key organizers with your preferred monogram to further fascinate your giftee.
Have you made your option yet? Add your favorite box or two now to your carts before they sell out.