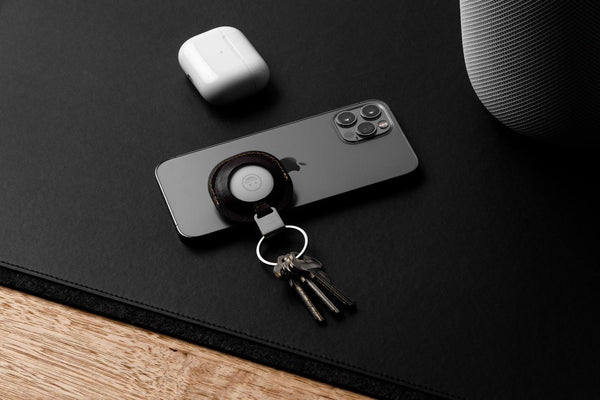 Introducing: The Orbitkey AirTag Protective Leather Cases
Have you ever felt the frustration of forgetting something over and over again, just like Lucy from 50 First Dates? Or are you someone who just has a knack for losing your things? Well, here's something perfect for you! Last year, Apple blessed the world with AirTag, a tracking device that you can attach to or slip into your stuff so that you never have to lose anything ever again. Quite an innovative world we live in, huh?
Now, let's say that you finally own an AirTag. What about your keys, flash drives, handy flashlights, things that need to be attached to the AirTag? How do you hold them together? And won't you need a case to protect your AirTag?  
We got your back! Say hello to OrbitKey's newly released protective cases for AirTag. These cases double as keychains which can hold just about anything you'd like to track and get a hold of -- made with the same premium quality material you expect from OrbitKey.
OrbitKey's Slim Case for AirTag
First up, we've got OrbitKey's Slim Case for AirTag. Measured at 152x72x18mm and weighing 35g each, this case is as slim and compact as it can get; you probably won't even notice its existence! Its open keyring makes it easy for you to insert whatever you feel the need to track and secure. Its snap feature allows the AirTag to fit snuggly in, so you won't have to worry about it falling off. The Slim Case is designed to have an open shell case to showcase your personalized engravings.
This case is available in Black and Granite, which are just the perfect finishes for all minimalists who like everything simple and functional.
OrbitKey's Leather Holder for AirTag
We also have OrbitKey's Leather Holder for AirTag for you, fancy folks. This is the most elegant and secure AirTag holder in the market as it is made of premium, sustainably sourced LWG (Leather Working Group)-certified leather sleeve. Crafted with durable stainless steel, its quick-release key ring allows you to attach (or detach) your belongings quickly. It has an open design on one side, so you can choose which side of the AirTag you'd like to showcase. 
Made available in three color options: Espresso, Black, and Blush, this is indeed a must-have for the AirTag-owning, on-the-go individuals. This device also makes for a perfect gift for your family and friends who are forgetful but classy Lucys.😉
Oh, before we forget! Kindly keep in mind that AirTags are not included in these products.