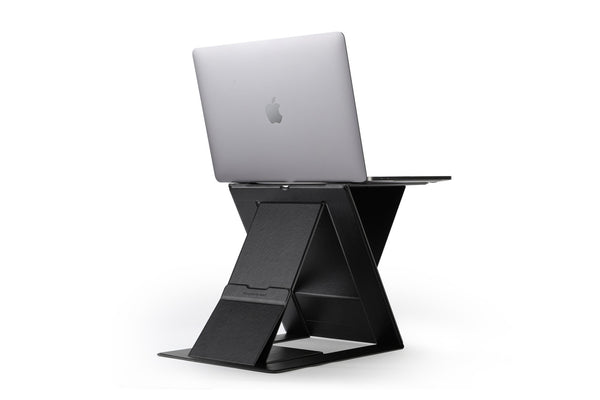 Red Dot Design Awardees 2020: MOFT & Knirps
Among the contenders, makers, and designers, the Urban Traveller and Co. team takes pride and feels jubilant as we feature several brands that are recipients of the prestigious Red Dot 2020 Award. 
Featured on our site is the Mobile Office For Traveller, popularly known as MOFT. This brand gained its reliable reputation for its innovative designs to make workers more productive, wherever they are.
The prestigious Red Dot conferred the smart and sleek MOFT Z laptop stand as one of their awardees for 2020. This ingenious accessory was designed using the origami principle, wherein it can be collapsed distinctively depending on your preference.
This smart accessory uses plots for the sitting mode and a stature of 25 cm for the standing mode. While working, users can stand and rapidly change their position without being limited by the height of the table. What is more to this highly acclaimed tool is that it can be collapsed to be easily stowed away or shipped out.
Another multi-award-winning brand we feature is the Knirps. Knirps has been a Red Dot award recipient since 2013 and consistently develops products with groundbreaking umbrella features.
For 2020, the Red Dot recognized the exceptional design of Knirps Ultra Light Safety Duomatic as it met the security standards of the Japanese market. It has a unique component that keeps the umbrella from unintentionally springing back open when shut - a significant advantageous feature, especially for the kids. Because of innovative materials like fiberglass, aluminum, and extra-slender polyester, the umbrella weighs just 210 grams. 
Another well-recognized Knirps product is the Knirps Ultra Light Slim Manual. This remarkably lightweight tool weighs only 115 grams and is 21 cm long, making this a real handy one perfect for coat pockets. It also impressively can withstand wind velocities of up to 100 km/h without enduring harm, thanks to its flexible struts, which guarantee that the umbrella will not break even if the original canopy is turned back to front.
Adding another product to the impressive roster of Knirps is the Knirps Ultra Light Duomatic. Like most of its siblings, this model is also lightweight and incredibly durable. Measuring 26 cm when closed and 97cm width when unfolded, this model can adapt on whirlwinds of up to 120 km/h.