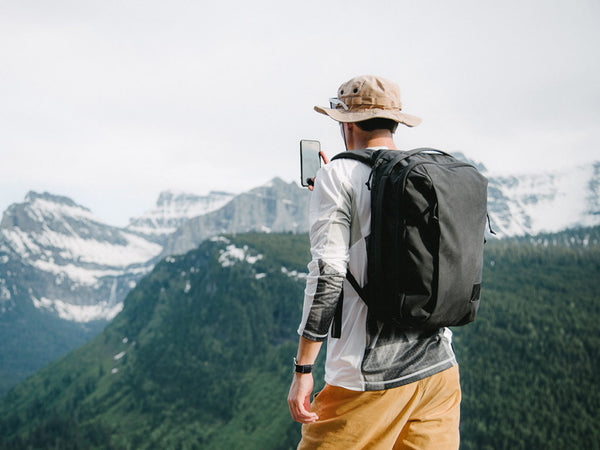 Revolutionizing the Revenge Year
Revenge travel has never been this smooth.
With 2023 being dubbed the Revenge Year, the fight to regain control and reclaim our time is afoot. We may be set for the flights we've booked after scrambling for the best deals on air fares and tickets, however we mustn't forget to factor in the degrees of comfort we've gotten accustomed to in the pandemic era.
Don't worry, we're shuddering too—nobody wants to remember the extended periods of time we were stuck indoors, barred from travel and outside interaction. But times are once again changing, and with it, our needs too. If there's anything humans do, it's adapt, and as we re-enter the world with newfound wanderlust, we realize that that the convenience we built for ourselves at home, we'll need to take with us on the next flight and the next trip, and the trip after that, so on and so forth.
For example, Ostrichpillow: the brand's first product was a portable hybrid pillow/sleeve that would allow for more comfortable power naps on the go, and the new Ostrichpillow Go takes that a step further. Ergonomic, with minimum weight and reducible volume, this upgrade of your standard neck pillow is a must-have for any adventure, whether it be in long-haul flights or hikes deep in the wilderness. Its elegant design, high density memory foam, and adjustable Velcro straps give wearers the freedom to create a custom fit feel, and it's easier to carry than ever because of its soft, malleable features.
What else might upgrade your post-pandemic adventures? Backpacks are an undisputed essential; travelers in the new normal would benefit from a backpack that can carry plenty without being cumbersome. The Evergoods Civic Panel Loader 24L, which offers improved breathability, durability, and functionality from previous iterations of the Civic Panel Loader, is an option. Featuring top and side carry handles, discreet right and left bladder ports, a fully padded laptop compartment, a removable, adjustable sternum strap, an aluminum side stay for a sturdier side carry, and a pocket layout that works for both vertical and horizontal handling. Otherwise, the Freitag F306 Hazzard backpack is utilitarianism disguised as quiet luxury: rapid-access external pouch, an extra zipper for furthered easy-access to your laptop or other items, and padded electronics compartments for technical gadgets up to 17 inches all come together in this unique backpack made of upcycled truck tarps and car seat belts. Sturdy and waterproof, the F306 Hazzard is one of the smartest and most versatile choices of business backpack, and with its charming, brutalist, literally-upcycled-from-used-truck-tarpaulin aesthetic, each Freitag F306 Hazzard is a one of a kind collectible that will stand the test of time.
Alternatively, If you fancy yourself a light packer, The Bellroy Tokyo Tote 2nd Edition is an effortless, clever kind of carry-all; work to overnight, market days to foreign stays. Made with durable, water-resistant fabric made from 100% recycled PET bottles and completely leather-free, the Tokyo Tote 2nd Edition features an internal padded laptop sleeve that safely stores devices up to 13 inches, redesigned, closeable pop pockets to hold bottles, shoes, umbrellas or more, and soft padded webbing straps with non-slip backing for maximum comfort. Don't worry about storage: its generous interior fits a full day of work and play.
Subsequently, a backpack or tote bag needs a spiritual sister of sorts, the sling bag. The return of the fanny pack—sorry, belt bag—as an unironic closet staple in the late 2010's may have initially raised eyebrows, but given the numerous small essentials we carry daily, it's a logical new classic. Especially when travelling; in addition to your keys, wallet, portable charger, and other accoutrements, you're likely carrying a passport, a water bottle, maybe a pocket wifi hub. A sling bag like the Rains Box Bag or the Code of Bell X-Pod II is a fashionable necessity. The Box Bag is clean in design, yet functional and waterproof, and can be carried over the shoulder, across the body, or as a handbag. Its minimal boxy silhouette couples well with the different styles you can wear it in, and its design is finished with an adjustable webbing strap, attached via carabiners. The Code of Bell X-POD is a modernized fanny pack with techwear elements. Its size is optimal in keeping you free and agile, allowing you to carry more than just your wallet or passport yet doing so without weighing you down.
The wallet is another essential to consider in this new era of travel; with technology and innovation continuing to change our world and lifestyles, there are three new factors to determine your wallet of choice: Perhaps protection of your cash and cards is your priority? Secrid's TwinWallet, which features their signature aluminium card protector interiors make them some of the best in RFID protection, keeping your cards and data safe from hackers and other financial security threats. Their patented mechanism allows you to slide your cards out with one simple motion, ready for immediate use. Or is convenience more your speed? The Bellroy Passport Folio Second Edition houses all your essentials so neatly and thinly inside the zip closure that allows for flexible storage without the risk of anything dropping out. Passports, tickets, check in and go. your bag or pocket too! But if ease of access caters best to your kind of travel and adventure, the Code of Bell Annex 360 Wallet Sling is an easy way to go handsfree and pocket-free in carrying paper currency, coins, credit cards, IDs, and other wallet items. It features a single-zipper 3 pocket design, detachable straps, and a rotating swivel hook to attach to other bags. All the features of a wallet, but with more space and versatility in the same compact form.
Of course, as we give you our picks in gear for the smoothest, optimal travel experience in your Revenge Year, we know that the right bags and travel necessities are a completely personal choice. So we open you up to our complete set of curated 2023 Travel Gear and Essentials, available at all Urban Traveller & Co. stores and online at www.urbantravellerco.com.