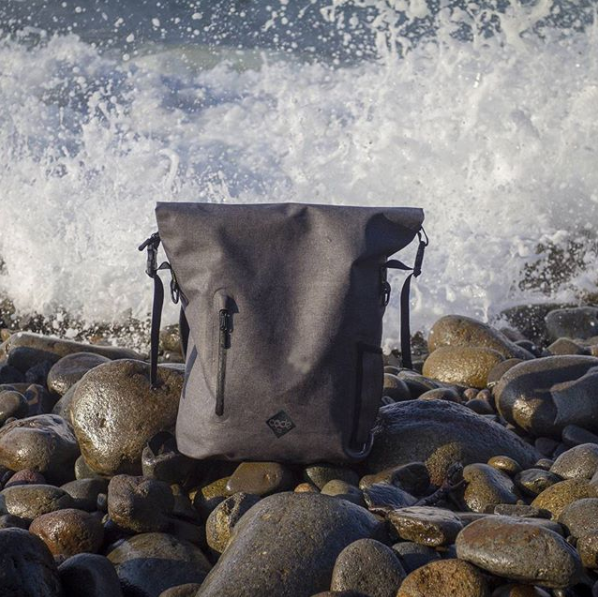 Water-Resistant or Water-Proof? Know How Best To Stay Dry
It's easy for the average individual to lump water-resistant and water-proof items together, as essentially, they are both products that work well against water. However, the more meticulous consumer is aware that while these labels are part of the same sea, they are not the same fish. 
Want to be in control of certain situations that put your possessions at risk of meeting a watery end? Learn how to recognize what sets water-resistant brands apart from those that are water-repellent.
Your first line of defense
Water-resistant products are equipped with basic materials that allow them to withstand regular exposure to water. Often, they are coated with light substances or tightly woven materials that prevent immediate damages from a splash or a drizzle. Just be careful not to completely submerge water-resistant items or they'll be history!
Certified Water-Resistant: Loctote
Loctote may be incredibly popular due to its slash-proof nature, but it does more than keep thieves at bay. It features a 2000 urethane-coated nylon and water-resistant zippers that safeguard small electronics from pills, splashes, rain, and unfortunate drops into muddy puddles. Definitely a boon during tougher journeys!
When the problem is more than a drop
Having physical properties that enable them to repel water on contact, water-repellent pieces have greater immunity to liquid than their water-resistant counterparts. Manufacturers make use of chemicals, technology, and other special techniques to ensure that water-repellent products will not be easily ruined by accidental spills or relentless downpours. They may have a higher level of liquid protection, but prolonged exposure to water will still spell disaster for your water-repellent items.
Certified Water-Proof: Earth Pak and Code 10
Both Earth Pak and Code 10 have perfected the art of water-proofing bags.
Earth Pak boasts of a thick 500D PVC material that protects items from liquid and abrasion. Its "splash-proof" interior and exterior zippered pockets are ideal havens for grab-n-go items that one may take out more often during a trip to the beach. It even comes with a waterproof cellphone case for those who can't part with their mobile phones miles away from land.
Meanwhile, Code 10 is fortified with a 600D TPU-coated polyester and YKK water-resistant zips that completely repels any kind of wetness. The seams of a Code 10 bag ere created through a high-frequency welding technique that guarantees to stop water from entering the pack. The main compartment of the bag is waterproof up to IP x 58 – meaning, it can get drenched so badly, yet no moisture will penetrate it!
Knowledge is key in keeping your stuff dry and in order. Don't take water-resistant and water-proof products for granted - choose what will work best for you on any given scenario.
Transform into a Water-Proofed – or Water-Resistant – Traveller with Loctote, Earth Pak, and Code 10. Get them at Urban Traveller & Co. online at www.urbantravellerco.com, or visit UTC at Greenbelt 5, Alter Ego in Shangri-La Plaza, and Ayala Vertis North to avail of our awesome promos for the month of July, 2018. For more #everydaycarry ideas, follow @UrbanTravellerCo on Facebook and Instagram.