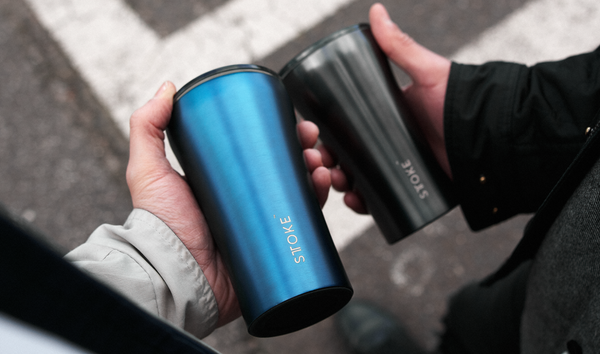 We're STTOKEd!
As pleasing, indulgent and sinful as our coffee or tea, the Sttoke Shatterproof  ceramic cup is hot-hot-hot!
Elevated food storage makes life better. Thoughtful design keeps contents safe from contaminants and the effects of environmental changes while also offering an ergonomic and stylish experience. Sttoke leads the race in modern food storage with their leak-proof, on-the-go beverage container, the world's first ever shatterproof cup. This award-winning design brings the best of German durability, materials, and innovation right into the hands of Sttoke's users all over the world.
The Sttoke leakproof cup has become a must-have for the urban traveller for several reasons.
It uses Sttoke's signature Greblon ceramic.
Sttoke's very own formulation of ceramic gives its leak-proof cup the durability it's known for. On top of its strength, Greblon is also tough against stains so users never have to worry about their cup developing stains over time, which are inevitable for plastic or silicone cups. More so, this material does not retain food odors, making it easy to clean and usable over a longer period of time.
Ergonomic design is a priority
This cup was made to fit snugly in the hands of users. It's shatterproof not only because of its material but also because it's much easier to hold onto. Its thoroughly researched ergonomics significantly reduces the likelihood of slippage and dropping.
Double-wall insulation makes it ideal for specialty beverages.
Sttoke's cup can keep beverages cool for six hours or hot for three hours. Temperature control is a must for individuals who travel with coffees, teas, smoothies, juices, or simply water. After all, the magic in a good drink is all about maintaining the optimal level of warmth or coolness that can influence taste.
It's appropriate for every kind of venue or occasion.
Most people own several kinds of beverage containers as they are designed to suit different venues. A cup might be good for a weekend out or an at-home work office, but may look out of place in a boardroom meeting or in an executive lounge. The Sttoke cup's minimalist design is discreet, suitable for both men and women, and appropriate for all occasions. This way, Sttoke also encourages its users to be more sustainable by needing only one cup that covers all the bases.
It comes in two sizes.
Sttoke's leak-proof cup comes in 12oz and 16oz sizes. This way, a larger cup can be used for thicker beverages or longer trips, whereas its smaller version can store lighter drinks and be brought along shorter commutes.