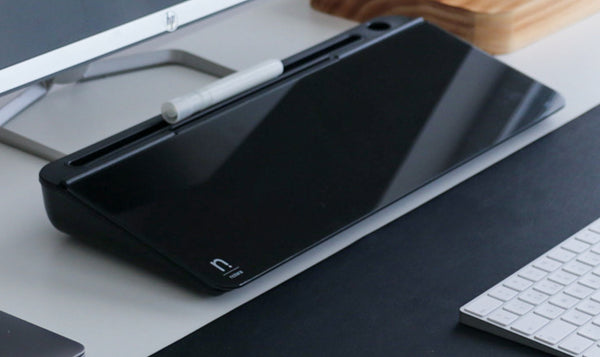 Winning Over Procrastination
Productivity Booster Notera Wedge helps you organise your work life, and bring focus where its needed most.
Back in the summer of 2020, Huw Williams and his friend Usman realised procrastination was their shared nemesis in productivity. Technology had come to serve as a daily, if not hourly distraction, and deep, focused work flow became difficult to maintain. Huw's subsequent research on the global attention crisis at the hands of social media and other digital apps led him to seek analogue solutions that were sleek, functional and ergonomic.
Thus, from the need to free themselves of scrap paper pile-up and the clunkiness of standard whiteboards was the Notera Wedge born. This handy writing surface/desk organiser hybrid features a premium, easy-to-clean glass exterior, internal storage space with an integrated device holder, a pen and eraser, and a clean design that fits perfectly between your keyboard and monitor. Boost your productivity by writing down daily tasks, notes, and reminders throughout the day, and erase accordingly as soon as you've completed them. The mobile device holder ensures your device is always in sight and that you never miss any important notifications; alternatively, it also stores your device in the internal compartment to avoid any distractions.
In the Wedge, Notera's mission is clear: to create tools to foster your creativity and protect your focus. By rethinking and redesigning classic workspace essentials, Notera aims to create products that help create a space where work truly flows, all while looking great and saving paper.